Chicken curry is a perennial favorite food for many and it is one of mine too. Every now and then, I get a craving for curry chicken which must be satisfied. This Nyonya chicken curry is one of my favorite curry recipes and it never fails to whet my appetite for more.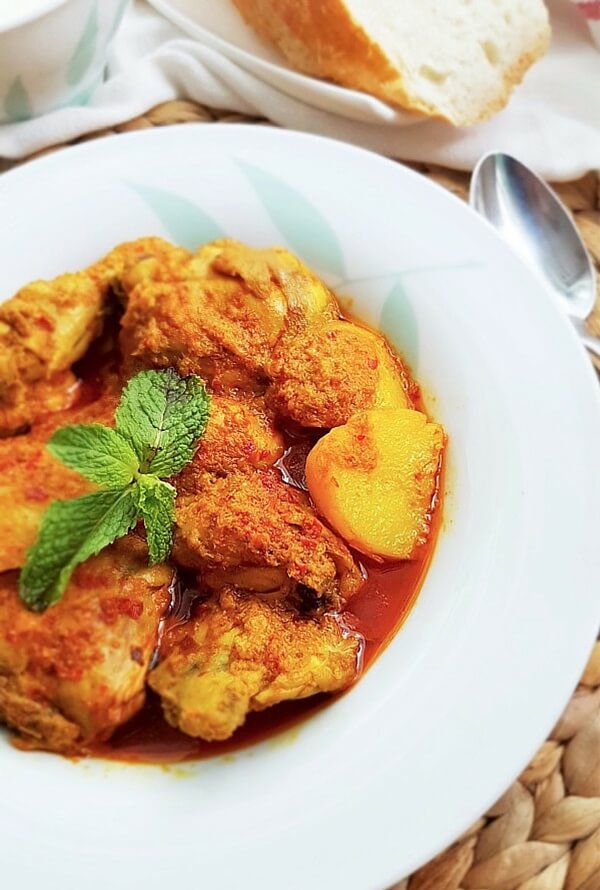 There are many different varieties of curries and so many ways to cook it. The version that I'm sharing now is of Penang Nyonya origins and I love the aromatic blend of spices used. Instant curry paste is great for convenience but once you know how to make a curry from scratch, you'll know the difference when you taste it.
Be prepared to spend some time in the kitchen if you want the best curry. You'll be amply rewarded with a scrumptious and addictive curry for your efforts.
Related Recipe: Curry Chicken with Potatoes 
Cooking Notes
1. Prepare the ingredients (refer to the recipe for the full list)
I found all the required ingredients in my local market. Get the butcher to chop up the chicken to save you some preparation time.
2. Grind/pound spices
Pound the dry spices (coriander seeds and cumin seeds) using a mortar and pestle. Make it as fine as possible. Otherwise, the curry will be a little gritty (which isn't necessarily a bad thing if you don't mind it).
If you want a smooth curry gravy, use an electrical spice grinder or this coffee grinder and spice grinder combo to pulverize the spices. Both methods of grinding spices will result in a different texture to the curry – slightly coarse texture vs a smoother texture.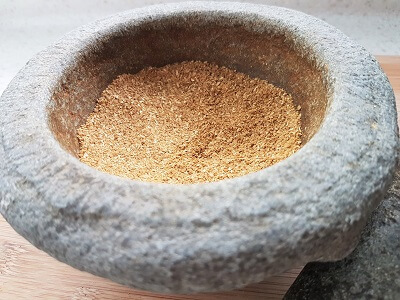 For the rest of the spices, I used a food processor to blend them to a fine paste. Add some cooking oil if the blade does not rotate well.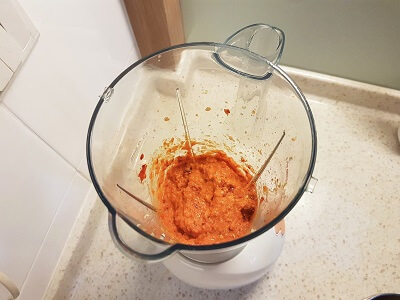 3. Fry spices
This step is essential to bring out the aroma and flavor of the spices. Using low to medium-low heat, fry the spices with sufficient oil till fragrant and the oil separates from the paste. It has to be well fried so that no traces of raw spices remain.
Be careful not to burn the spices. I used my Happycall alumite ceramic pot. Compared to my other pots, I find that it prevents the curry paste from burning quickly.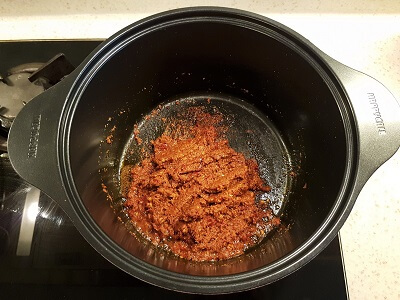 4. Cook and simmer chicken
Let the curry simmer till the chicken is completely cooked and tender.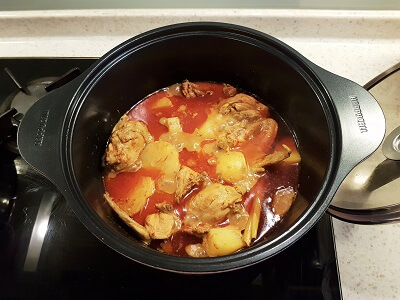 Traditionally, Nyonya curries call for coconut milk but I'm not a big fan of coconut milk so I did not use it for this Nyonya chicken curry recipe. I chose to add some homemade yogurt. It provided a creamy and slightly tart taste to the curry without the cloying richness of coconut milk. I LOVE it! But feel free to swap with coconut milk if that's what you prefer. The leftover curry will taste good even on the next day as the flavors continue to come together.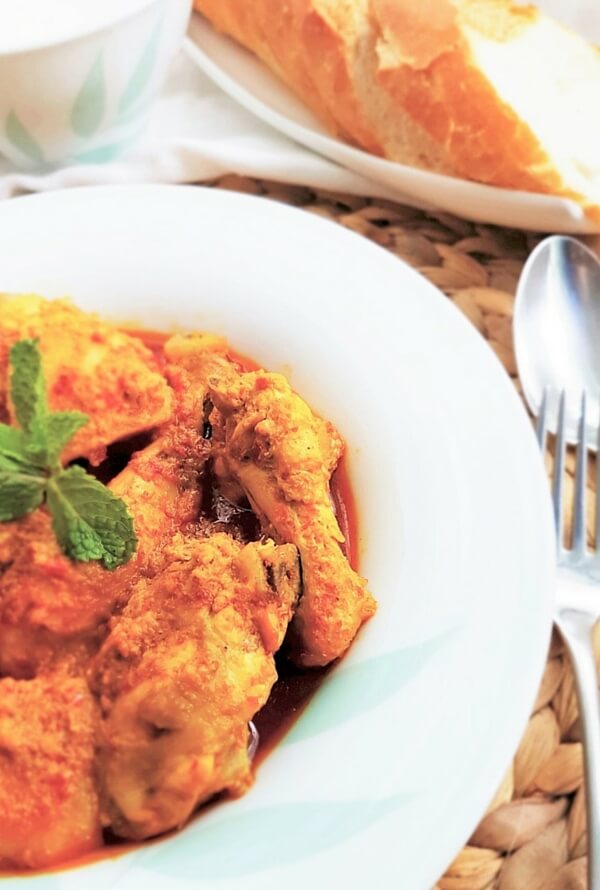 The slightly tart homemade yogurt is a perfect pairing with the savory curry. And the delicious curry gravy just begs to be mopped up with some baguette or bread. You can eat it with rice or even plain bread too. Whichever way, it's simply delicious!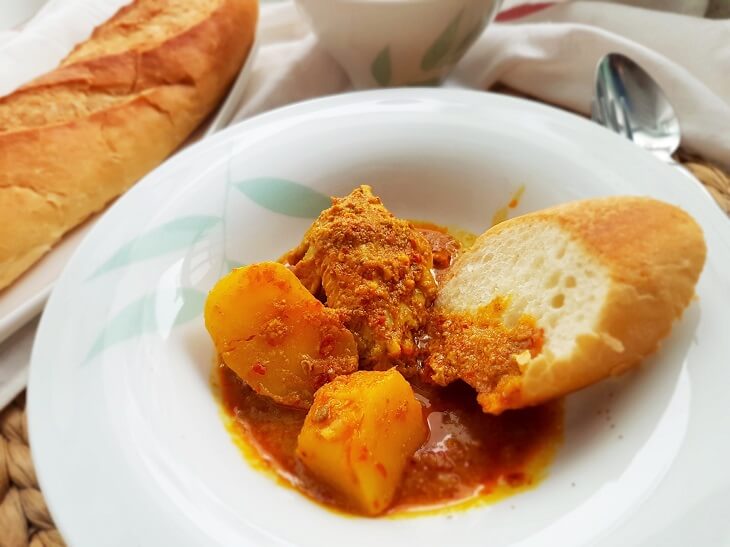 It's not hard to learn how to make a curry from scratch. All you need is some effort and time in the kitchen. This Nyonya curry chicken recipe is adapted from 'The Penang Nyonya Cookbook' by Cecilia Tan which you can find here. I have two of her cookbooks and they're wonderful resources for authentic Nyonya and Chinese herbal recipes.
Don't want to miss a recipe? Be sure to subscribe via email to get the latest updates! Follow me on Facebook, Instagram, Pinterest, Google+ and Twitter. I hope you'll enjoy this recipe as much as I do. See you again and happy cooking! 🙂

Nyonya Curry Chicken Recipe
Delicious nyonya curry chicken made from scratch with selected spices.
Ingredients
1 fresh chicken (about 1kg) - remove head, feet and skin and chopped into pieces
5 tbsp cooking oil
3 potatoes
1 stalk of lemongrass - white part only and lightly smashed
1 cup plain yogurt
1.5 cup water
Sea salt - to taste
Optional: Mint leaves for garnishing


Spices A
4 tbsp coriander seeds
1 tbsp cumin seeds


Spices B
15 dried chilies - soaked in warm water until soft. Drain and snip each chili into 3 cm pieces.
10 shallots - peeled
5 cloves of garlic - peeled
20 gm ginger - peeled and cut into a few pieces
20 gm fresh turmeric - peeled and cut into a few pieces
Instructions
Lightly fry Spices A (coriander seeds and cumin seeds) in a dry wok till fragrant.
Wash and drain chicken. Set aside and cover. Parboil potatoes in a small saucepan till three-quarters cooked. Let cool. Peel and cut into wedges.
While boiling the potatoes, pound spices A and B separately till fine using a pestle and mortar. You can also use a grinder to grind the spices B if preferred.
Heat oil in a pot. Add all pounded/blended ingredients and lemongrass. Reduce heat and fry paste till fragrant and oil bubbles through. Be careful not to burn the curry paste. Add 2 tbsp of yogurt if the paste becomes dry.
Add chicken and stir to coat the chicken parts evenly with the spices. Fry for about 3 - 5 minutes. Add water. Stir, cover with the lid and let simmer for around 15 minutes. When the chicken is nearly cooked, add potato pieces. Continue to simmer for about 5 minutes more until potatoes are cooked through. Add yogurt and stir to mix well. Salt to taste.
Dish out and serve hot with rice, baguette or bread.
Cooking Notes
1. Get the butcher to chop the chicken to save some preparation time. Best to have the chicken skin removed otherwise the curry will be very oily.

2. Remove some of the seeds from the dried chilies after you cut them if you prefer a less spicy curry.

3. Use fresh spices if possible. Spices that have been kept for too long will lose some of its fragrance and potency.

4. You can add more water if you wish but not too much or the curry will be diluted.