This Chinese style chicken curry is one of my go-to meals when the craving for curry arises. I usually cook curries in my Happycall pot but it works equally as well in a thermal cooker with adjustments to the cooking time. This recipe is quite similar to my earlier quick and easy Chicken Potato Curry.
The concept behind a thermal cooker is to let trapped heat from a short, rapid boil continue to cook food in an insulated cooker for up to 8 hours. The insulated pot is cordless so it does all the work without electricity. This would be very useful in an emergency if there is a power outage or the need to conserve fuel arises.
I LOVE using the thermal cooker to slow cook my soups but it has also proven itself capable of cooking much more than just soups. The best part? The actual cooking time on a stove-top is much shorter compared to using a regular pot.
For today's chicken curry, after bringing it to a boil I just cooked it for 5 more minutes before popping it into the outer pot. 2 hours later, the curry was still hot even though the pot was only about half filled. The chicken was tender and soft and so were the potatoes.
Related post: What is a thermal cooker and why it is a kitchen must-have
Tips on Successful Thermal Cooking
Meat has to be at room temperature as the actual cooking time on a stove-top is short. If you're using frozen food, thaw first before cooking.
Avoid opening the lid once you've placed the inner pot into the thermal cooker to prevent rapid heat loss. It 'cooks' most effectively when there is sufficient heat in the insulated pot.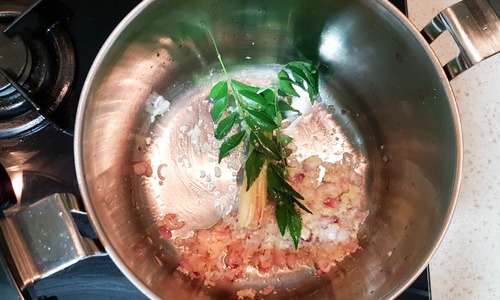 Heat up oil and let the aromatics go in first.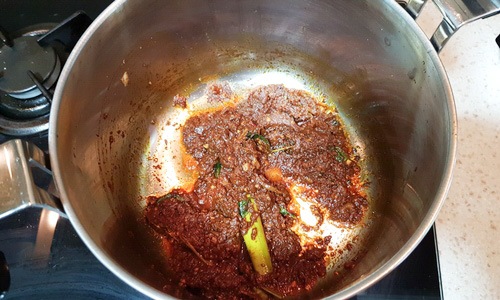 Stir-frying the spices will release their aroma. Use low heat to prevent it from getting burnt.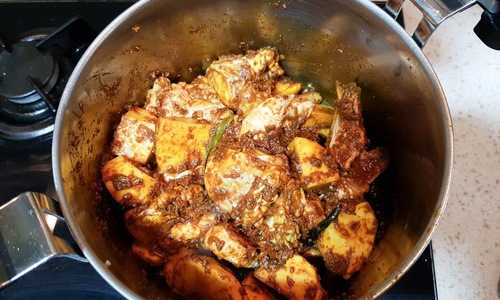 Add chicken and potatoes in and mix to combine the ingredients with the spice paste. At this point you can crank up the heat.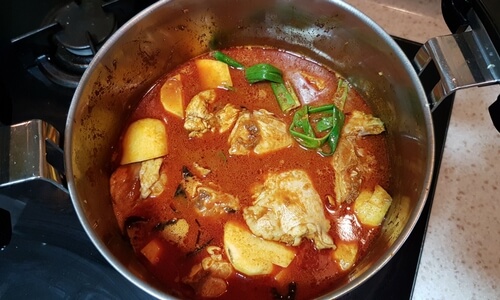 I don't like my curries too thin so the water that I added is barely enough to cover the ingredients. This is not a soup so the liquid does not have to submerge everything. You can leave out the pandan leaves if you can't find it. I happened to have some in my kitchen so I threw it into the pot.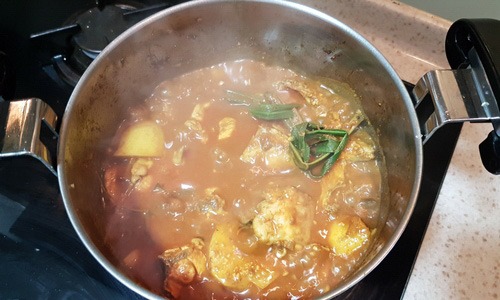 Bring it to a rolling boil (with the lid on) and cook over high heat for 4 minutes. It is important to cook with the lid on as a cold lid will bring down the temperature of the pot when it goes into the thermal cooker.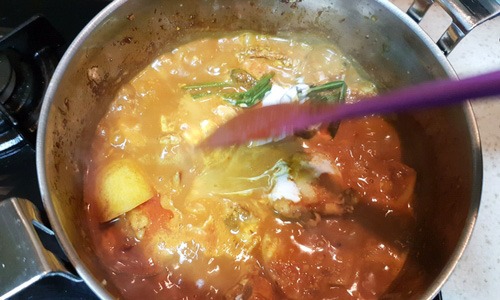 Add coconut cream (I used Kara brand) and cook for another minute. I'm not a huge fan of coconut cream but a small amount will add some body into the curry. 
Transfer the inner pot into the cooker and leave inside for 1.5 to 2 hours. You could even take the whole cooker out with you if you're travelling as it's portable.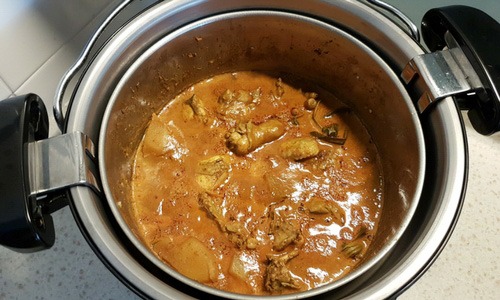 This is what it looked like after 2 hours. It was still hot and absolutely tasty!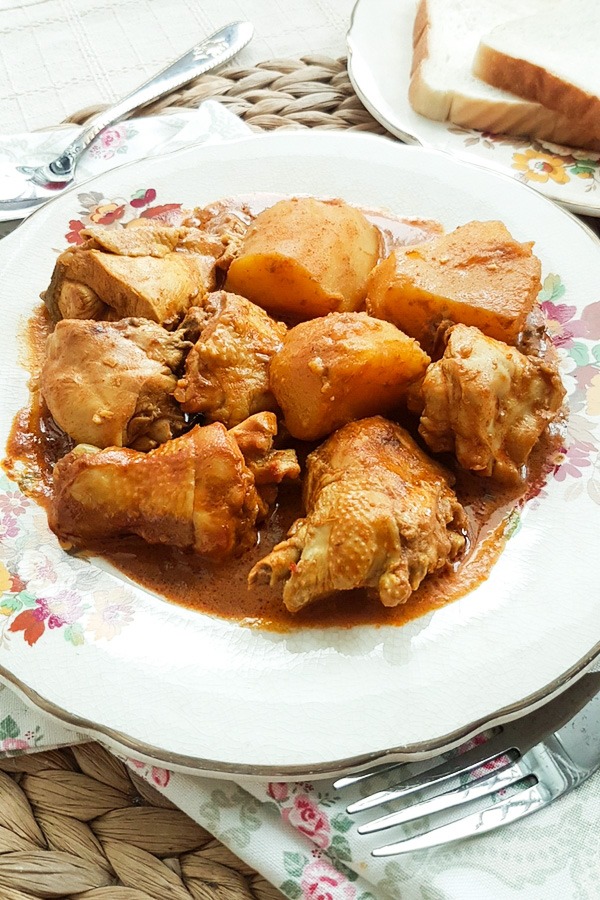 You HAVE to eat this with some bread (baguette is great too), rice or even vermicelli noodles. So much gravy… how can you not? Try not to skip the tamarind juice. It lends a lovely sourish taste which cuts through the richness of the coconut milk. Try this Chinese style curry chicken recipe. It is spicy, slightly creamy and tangy.
I love using my Tiger thermal cooker (5.2L) for thermal cooking but for some reason, it is very expensive on Amazon at the time of writing. I would recommend that you check out these thermal cookers too which I think are good choices:
Chinese Chicken Curry (Thermal Cooker Recipe)
Save time and energy on cooking with this delicious and easy Chinese-style chicken curry recipe cooked in a thermal cooker.
Recipe type:
Thermal Cooking
Ingredients
1 kg chicken (chopped into small chunks) - washed and drained
3 large potatoes - peeled and cut into chunks
1 packet instant curry paste (use your favorite brand)
7 shallots - peeled and sliced
5 pips garlic - peeled and minced
1" piece ginger - minced
1 lemongrass - bruised to release flavor
2 pandan leaves (screwpine leaves) - knotted (optional)
2 sprigs curry leaves
5 tbsp oil
2 cups water - (or use 2.5 cups. Adjust as necessary)
150 ml coconut cream
50 g tamarind paste
Instructions
Mix tamarind paste with 100 ml water to make tamarind juice. Filter out the seeds and set the liquid aside.
Heat oil in inner pot till hot but not smoking. Add shallots, ginger, garlic, curry leaves and lemongrass. Stir fry for about a minute. Add curry paste and stir fry till fragrant and oil separates.
Add chicken and coat with the paste. Add potatoes and stir to combine. Add pandan leaves, tamarind juice and water. Bring it to a boil and cook on high heat for 4 minutes. Add coconut milk and cook for another minute.
Turn off heat and transfer to thermal cooker. Leave it inside for 2 hours. Serve with bread or steamed rice.
Cooking Notes
The water does not have to cover all the ingredients. Otherwise the curry may be diluted and thin.