Chinese Four Herbs Soup (Si Shen Tang 四神汤) helps to strengthen the spleen and digestive system, calms the nerves and improve poor appetite.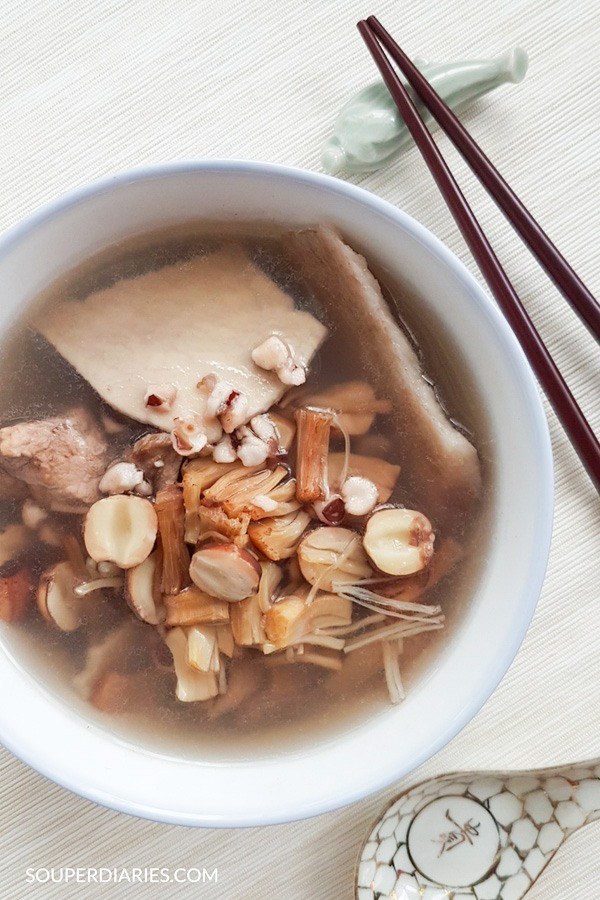 I love the aroma of Chinese herbal soups. They not only improve our health but they're delicious too. Si Shen Tang (四神汤) is easy to prepare and is said to be good for the spleen and digestive system. It is also good for those who are convalescing.
Traditionally, Four Herbs Soup (also known as Si Shen Tang) is made up of the following Chinese herbs:
Chinese Yam 淮山
Lotus Seeds 湘莲子 (lotus seeds with or without skin can be used)
Gordon Euryale Seeds 芡实
Poria 茯苓
It is more economical to get these herbs individually if you plan to make this soup regularly. If not, you should be able to find the Four Herbs Soup pack in a Chinese herbal shop and some supermarkets. It is very convenient as everything is already measured so all you have to do is to give the herbs a quick rinse and then pop them into a soup pot.
The following soup pots is suitable for this Four Herbs Soup with varying cooking times:
Slow cooker (2 hours)
Conventional cooker (1.5 hours)
Pressure cooker (20 minutes)
The first time I tried Four Herbs Soup (with only the traditional four herbs plus the meat), I found it rather bland. The herbs for this soup have a milder taste compared to more robust Chinese herbs such as ginseng and dang gui (Angelica sinensis). But once your tastebuds are accustomed to the taste, I think it is quite a soothing soup. The original Four Herbs Soup has a very delicate flavor so I added some dried scallops as my children prefer a more flavorful soup.
I don't recommend adding too many ingredients (especially strong tasting Chinese herbs) into the soup as it would completely alter the taste of the traditional Si Shen Soup.
Si Shen Tang is suitable for for the young to the elderly. For vegetarians, you can leave out the meat. If you like, you can replace meat with the following ingredients and turn it into a dessert:
Rock sugar
I ate all the herbs in this soup except for the poria. If you're a light eater, you can have this soup on its own as it can be quite filling. Have you tried Chinese Four Herbs Soup before? If not, do have a go at it and let me know what you think! Happy souping. 🙂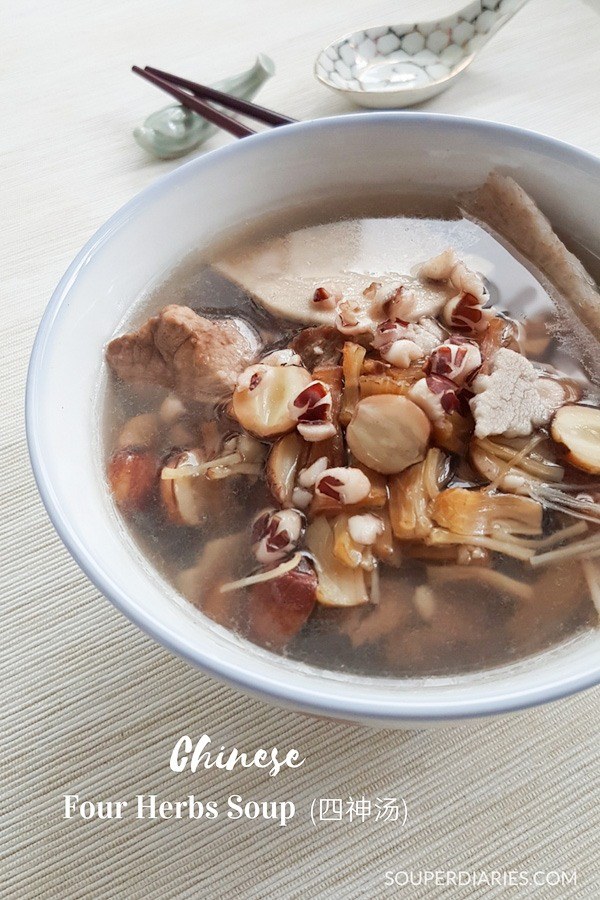 Other recipes with Chinese herbs:
Fresh Chinese Yam Chicken Soup

Chinese Four Herbs Soup (四神汤)
Delicate tasting Chinese Four Herbs Soup helps to improve poor appetite, supports the digestive system, spleen and nerves.
Recipe type:
Slow Simmer Soup
Ingredients
30 g dried Chinese yam (淮山)
30 g lotus seed (湘莲子) - with or without skin
20 g euryale seeds (芡实)
55 g poria (茯苓)
350 g pork spare ribs (lean meat or chicken is also fine)
5 large dried scallops - optional
1.5 l water
Salt
Instructions
Soak dried scallops in a small bowl of water (about 100 ml) till soften. You may let them soak overnight in the fridge. In a small pot, blanch pork ribs in boiling water for about 3 minutes. Remove and set aside.
Gently rinse all herbs and add with water into a soup pot and bring to a boil. Add the soaking water for the dried scallops into the soup pot too. Once the water boils, add the pork ribs and simmer for 1½ hours. Season with salt if required and serve hot.
Cooking Notes
The optional ingredients will add more sweetness into the soup. If you want the original taste of Four Herbs soup, you may omit the optional ingredients.