Aromatic Ginseng Chicken Soup with goji berries to gently nourish and rejuvenate the body.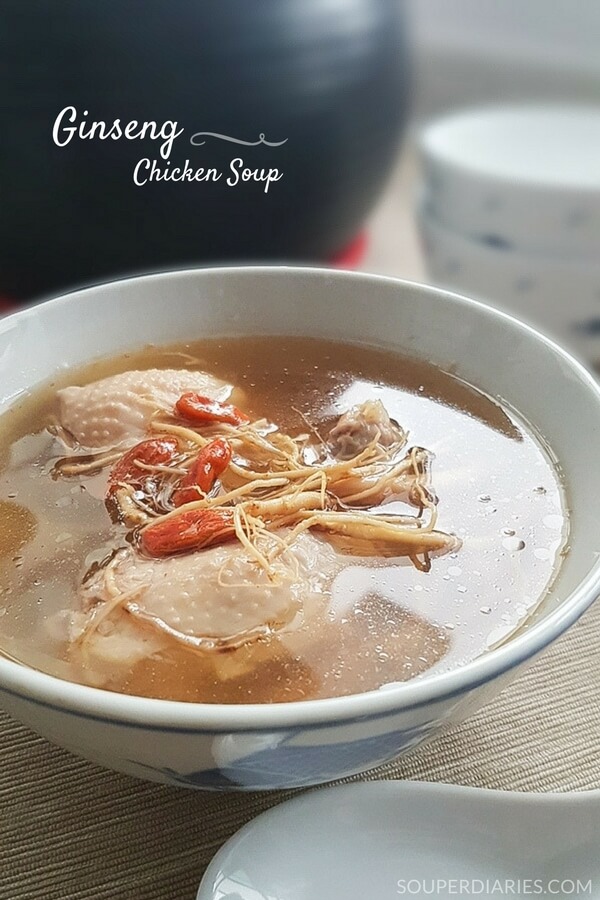 I finally decided to make use of a packet of ginseng beard that has been sitting in my fridge since last year. The thing about dried ingredients is, they can be kept for a longer period of time and I sometimes forget about them.
There are many types of ginseng in the market and they include Korean, American and Siberian ginseng. For this ginseng chicken soup, I am using ginseng beard, an inexpensive type of ginseng that you can buy from a Chinese herbal shop. They are also known as ginseng fibrous root, ginseng rootlets or ginseng tail.
There are two types of ginseng beard – 人参须 (Ren Shen Xu) and 洋参须 (Yang Shen Xu). I used 人参须 for this soup. For 洋参须 , it is usually used in Chinese herbal drinks for cooling purposes. They both look quite similar so if you're not sure of which one to get, check with the Chinese herbal shop that you're buying from.
Ginseng beard has a similar color to ginseng root but it is nowhere as potent. Unlike the more robust Korean and American ginseng roots, 人参须 is very mild and is neither 'heaty' nor 'cooling' but has neutral properties.
The length of cooking time will affect the taste of this soup. Ginseng beard has a bittersweet taste that will become more pronounced the longer it is simmered. So if you want a milder and less bitter tasting soup (so that it is more palatable for kids for instance), cook it for about 45 minutes or so.
As ginseng beard can be quite bitter especially for those who're not used to the taste, you can add other herbs such as dried longan, dried red dates or dried honey dates to sweeten the soup.
Remove the skin from the chicken if you want a less oily soup. I usually leave some skin on the chicken as it makes the soup more flavorful. Use a fine mesh strainer to skim the oil from the soup if you prefer a clear soup.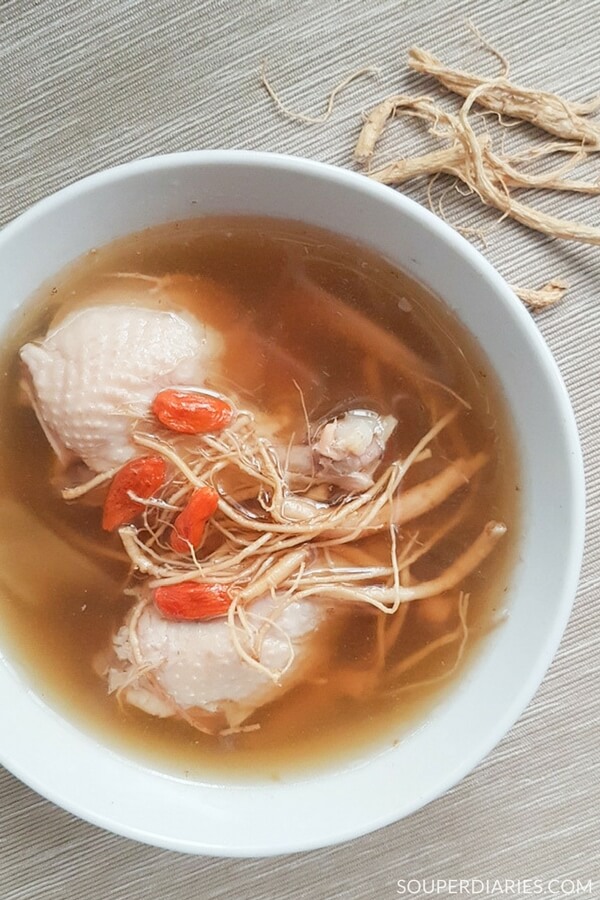 If you like Chinese herbal soups, check out these soups too:
Ginseng Chicken Soup
Ginseng chicken soup using ginseng beard to gently nourish and rejuvenate the body.
Recipe type:
Slow Simmer Soup
Ingredients
500 g chicken pieces
38 g American ginseng beard (人参须)
30 g wolfberries
20 g huai shan
6 dried red dates
1 dried honey date
6 cups water
Instructions
Rinse all ingredients and set aside.
Blanch chicken in boiling water for about 3 minutes to remove scum
Bring water to a boil in a soup pot. Place all ingredients (except for goji berries) into the pot and bring to a boil. Continue boiling for 3 minutes. Reduce heat and simmer for 1 hour or longer (30 minutes more) if you prefer a stronger ginseng flavor.
Add wolfberries in the last 10 minutes of cooking. Season with salt to taste and serve hot.