Chinese congee is the ultimate comfort food for many. A versatile food, it is a blank canvas where almost any ingredient can be added to create different flavours and textures. In this Chinese congee recipe, dried scallops are added to the rice porridge in a thermal cooker to create a rich, flavorful broth.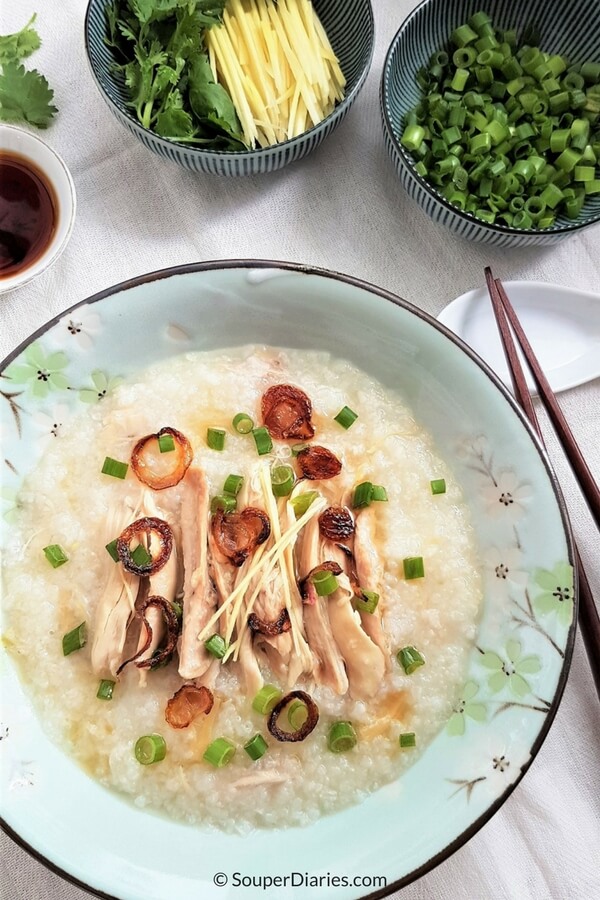 Congee or jook is rice cooked with lots of liquid until it forms a consistency to suit your taste. I usually use my thermal cooker for soups and desserts. Then I discovered that it could also make the most delicious congee.
It tastes just like those cooked on a stove top, but with a shorter cooking time.
Related Post: What is a thermal cooker? Read about it here.
If you often cook congee using a conventional pot, you'll know it is necessary to stir from the bottom of the pot every now and then throughout the cooking process to prevent the congee from sticking to the bottom.
With a thermal cooker, you won't need to stir at all once the inner pot is transferred to the outer container. Less work and hassle so you'll have more time for other things.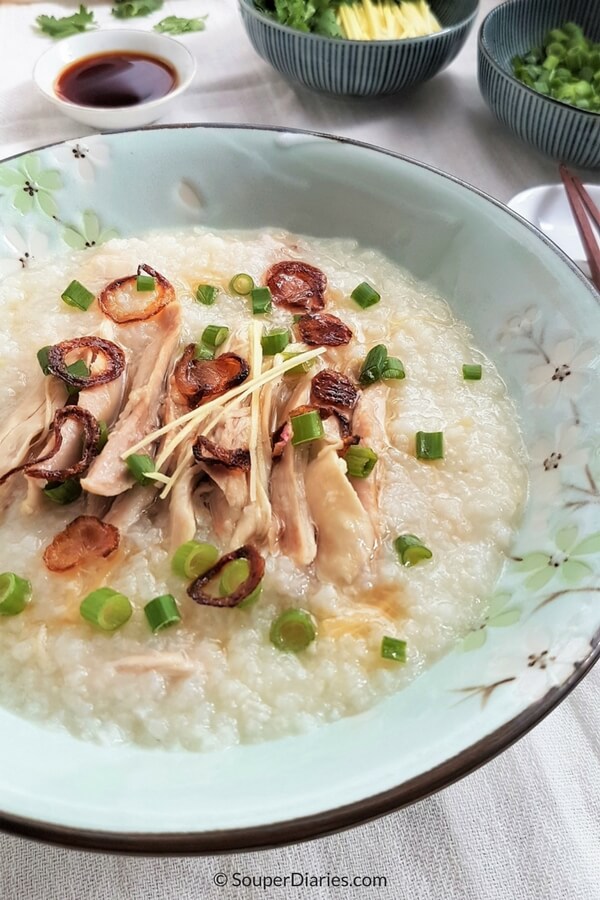 Dried Scallops
Usually, I'll use homemade chicken stock to flavor a congee but today I added some dried scallops and the congee turned out naturally sweet and tasty. Dried scallops are expensive but in my opinion, they're worth it. With the right amount of dried scallops and water, you won't need any kind of stock to flavor the congee.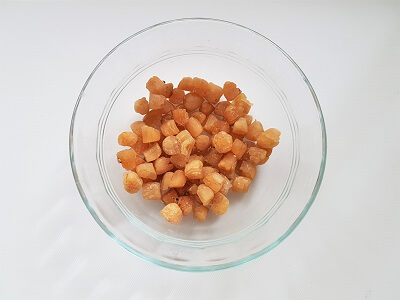 These little flavor bombs will infuse the congee with a savory and ocean-y like flavor. Be sure to soak them first before cooking to soften them. Don't toss away the soaking water as you can use it to enhance the flavor of the congee.
If you have never tried dried scallops before, I do recommend that you start with smaller dried scallops like these as they are milder in taste. They're also much cheaper compared to the larger ones.
Dried scallops are sold at dried goods stalls in Asian markets and Chinese medical shops and also on Amazon. Keep them refrigerated to prolong their shelf-life. My mother used to keep her dried scallops in the freezer for years and they never seem to go bad. I love using them (usually the large ones) for cooking Chinese soups as they add such amazing flavor and depth to any dish you add them to.
Cooking Congee with a Thermal Cooker
Place all your ingredients into the thermal cooker's inner pot. Cover and bring it to a boil on a stovetop. This took me about 5 minutes.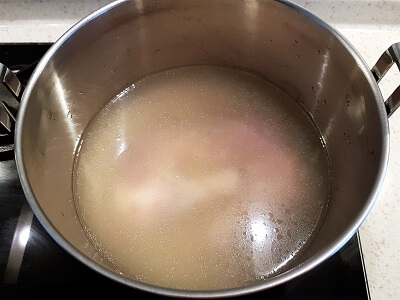 Once the water is brought to a boil, cook the congee over medium heat with the lid partially open. This way, the water will not overflow and create a mess on the stove. Stir every now and then to loosen the rice and prevent them from sticking to the bottom of the pot.
After 20 minutes of cooking, place the inner pot carefully into the outer container. Close the lid and leave it inside for about 2 hours.
After 2 hours of "cooking" in the thermal cooker, this is what the chicken congee looked like. Don't fret if it appears goopy. This is because congee will continue to thicken the longer it stands. Just stir the congee and it will smoothen out.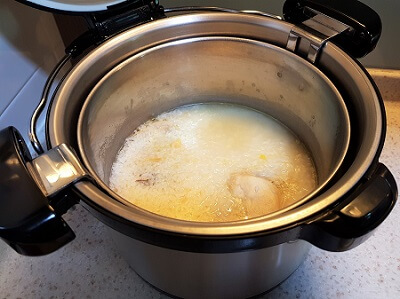 Remove the chicken legs from the pot. The meat is now fall-off-the-bone tender. Shred the chicken to small pieces. Most people would chuck the bones but I usually save them in the freezer along with other chicken bone parts and vegetables to make homemade chicken stock. Waste nothing.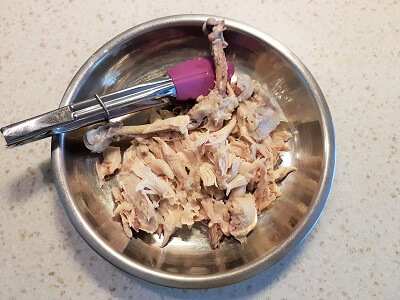 Add 3/4 of the shredded chicken back into the thermal cooker. Save the rest to put on top of your congee.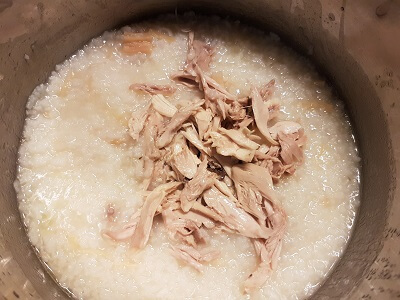 If the texture of the congee is too thick for you, thin with some hot water and stir till it is to your preferred consistency. (I would suggest that you taste the congee first before adding any water). Season with salt if required.
How much water to use when cooking congee?
It really depends on your personal preference. There's no right or wrong. Some people like their congee with a thick consistency while others prefer a thinner jook. For me, I like my congee to be more watery only when I'm feeling unwell as it will be easier to swallow.
If you want the congee to be steaming hot, take out the inner pot and re-heat the congee on the stove top.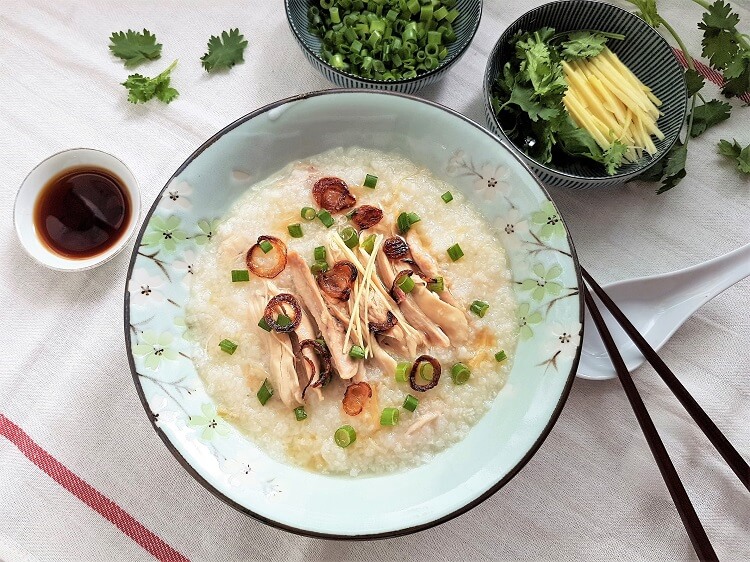 Have you made congee with a thermal cooker before? Share with us your experience!
If you have a question or comment, I would love to hear from you. Connect with me on Facebook, Instagram, Pinterest, Twitter and Google+ to keep up to date with all the latest happenings on Souper Diaries.

Thermal Cooker Chicken Congee
Chinese congee recipes with chicken and dried scallops cooked in a thermal cooker.
Recipe type:
Rice Recipes
Ingredients
1 rice cup of rice (150 g)
5 cups water (see notes)
2 chicken legs (skin and fat removed)
50 gm small dried scallops - soaked in 1 cup water and reserve soaking water (see notes)
10 gm of ginger - cut into slices
Salt to taste
To season rice
2 tsp fried shallot oil (or use cooking oil)
1 tsp salt
Garnishing
5 stalks spring onions - chopped
40 g ginger - julienned
3 tbsp fried shallots
Instructions
Wash and rinse the rice in the thermal cooker's inner pot. Repeat till the water runs clear. Drain away the water. Add oil and salt to the rice. Mix well and set aside for about 10 minutes or longer if you have time.
Shred the soaked dried scallops by hand into small pieces. Add the shredded dried scallops, ginger pieces and chicken legs into the inner pot. Add water and the liquid that you soaked the scallops.
Bring the contents to a boil with lid closed. Once boiling, reduce heat to medium. Cook on the stove-top for 20 minutes with the lid partially open or the water will foam and overflow. Stir every now and then to loosen the rice and prevent them from sticking to the bottom of the pot.
Put the lid back on. Transfer the pot into the thermal cooker's outer container. Close the outer lid and leave it there for about 2 hours.
After 2 hours, remove the chicken legs and shred the meat into small slices. Add them back to the congee and save some to put on top of the congee. Stir the congee and add some hot boiling water if you find it too thick.
Taste the congee and season with salt as required. Garnish with spring onions, ginger and fried shallots and serve hot.
Cooking Notes
1. If you're not using dried scallops, replace the water with homemade chicken stock or store bought low sodium chicken stock.
2. Take out the inner pot and re-heat on the stove top if you want the congee to be steaming hot.
3. If you're using a 'normal' pot, just cook the congee all the way on a stove top. Stir occasionally to prevent the rice from sticking to the bottom of the pot.