Forget take-outs! Make your own fried rice with this easy Chinese shrimp fried rice recipe. It is so much healthier and economical.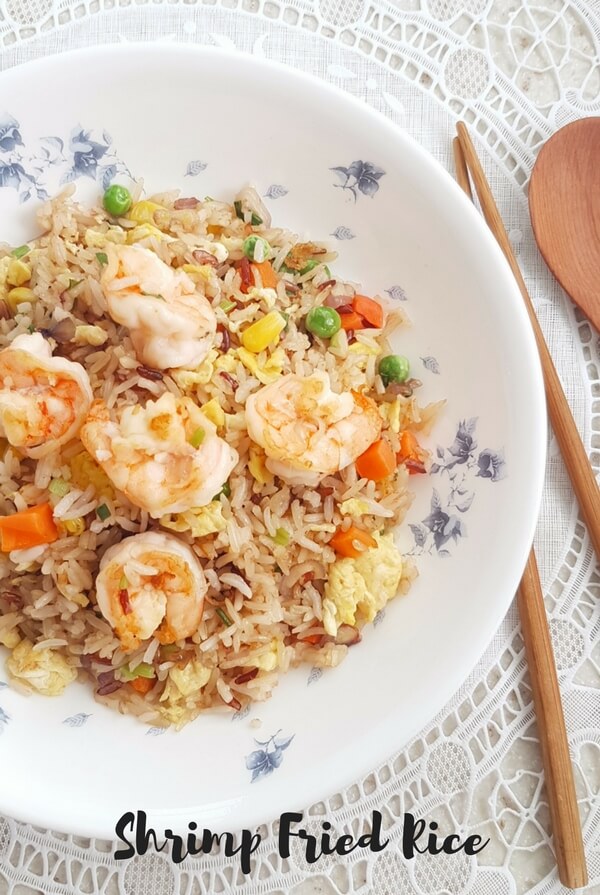 What I love most about fried rice is how you can easily customize it with your favorite ingredients. I used mixed rice grains for this shrimp fried rice as it was what I had for dinner last night. Rooster and Piggy (my 2 girls) don't really like mixed rice much so I tell them it's a healthier choice. You can definitely use plain white rice too. Besides fried rice, leftover rice can be used to make congee.
If you want a faster preparation time, use thawed frozen and peeled raw shrimps instead of fresh ones. They taste great too and are so convenient.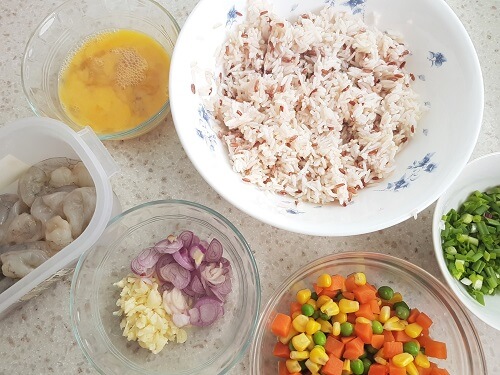 How to Cook the Best Fried Rice
Preparation
Cooking fried rice is a very quick process and you'll need a deft hand to cook the fried rice. Get all the ingredients ready and place them near your stove.
Heat
The wok has to be very hot with a layer of oil over it so that the ingredients cook quickly and doesn't stick to the wok. The high heat also dries out any excess moisture from the rice. I recommend using a stainless steel wok. A good quality stainless steel wok is able to take blazing hot temperatures for food to cook quickly. If you choose to use a non-stick wok/frying pan, don't use high heat to avoid ruining it.
Wok size
The wok has to be big and roomy enough to stir-fry and toss the fried rice especially if you want to make a bigger portion.
Rice
Day-old refrigerated rice works best for fried rice. Freshly cooked rice has too much moisture and will not separate well during cooking. However, if you want to use fresh rice, spread it out on a tray and place it under or near a fan to dry out some of the surface moisture. You can also leave it to cool in the fridge for at least 2 hours or until it is dried out.
Seasoning
Less is more. Do not use too much watery seasoning or it will cause the fried rice to turn soggy. And that kinda defeats the purpose of using leftover rice.
Babysit
Don't dawdle or leave the kitchen when cooking fried rice! The last thing you'll want is burnt or overcooked ingredients. Seafood like shrimps cook very fast. Pay close attention and cook the shrimps till the outside changes color (the center can still be partially cooked). Then add them back to the wok when the fried rice is almost ready.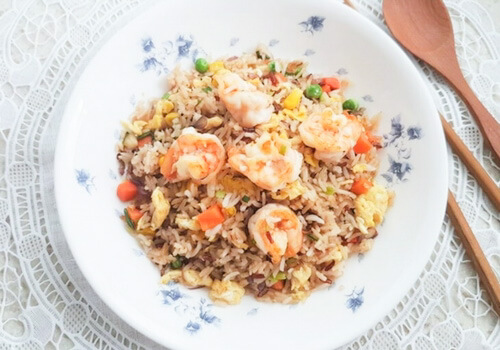 With our busy lifestyle nowadays, I love meals that can be prepared quickly such as this shrimp fried rice. It takes just 10 minutes to make this delicious one-pot meal.
Ready to cook now? 🙂
Don't want to miss a recipe? Sign up for Souper Diaries newsletter delivered to your inbox! Stay in touch on Facebook, Instagram, Pinterest, Twitter and Google+ for the latest updates. See you again and happy cooking!

Chinese Shrimp Fried Rice Recipe
Quick, easy and tasty shrimp fried rice ready in 10 minutes.
Recipe type:
Rice Recipes
Ingredients
2 cups cooked rice (refrigerated overnight) - loosen rice and break up clumps
100 g shrimps - shelled and deveined
3 cloves garlic - minced
3 shallots - sliced finely
2 eggs (add 1 tsp of light soy sauce and whisk)
½ cup mixed vegetables
3-4 stalks of spring onions - chopped
2 tbsp cooking oil
1 tbsp sesame oil
1 tsp light soy sauce
½ tsp salt
Instructions
Heat up 2 tbsp of oil in a wok till very hot. Swirl to coat the surface of the wok. Add beaten eggs and do a quick scramble till it is about 70% cooked.Remove from wok and set aside.

Heat up remaining oil on the wok. Add slightly more oil if needed. Add the shrimps and cook till they're about 70% done. Dish up and put them together with the eggs.

Pour in the sesame oil. Add garlic and shallots and fry for a few seconds till fragrant. No need to brown. Pour in rice. Toss and mix to coat them well with the oil.

Add mixed vegetables. Drizzle light soy sauce and sprinkle some salt over the rice. Toss the rice. Put the egg and shrimps back into the wok and toss frequently. Mix everything well. Fry till the rice is drier. Dish up and serve immediately.
Cooking Notes
1. Thawed frozen raw shrimps can also be used instead of fresh shrimps.