Delicately flavored with ikan bilis and dried shrimps, this Chinese winter melon soup with lean pork and straw mushrooms is light, tasty and comforting without being too heavy.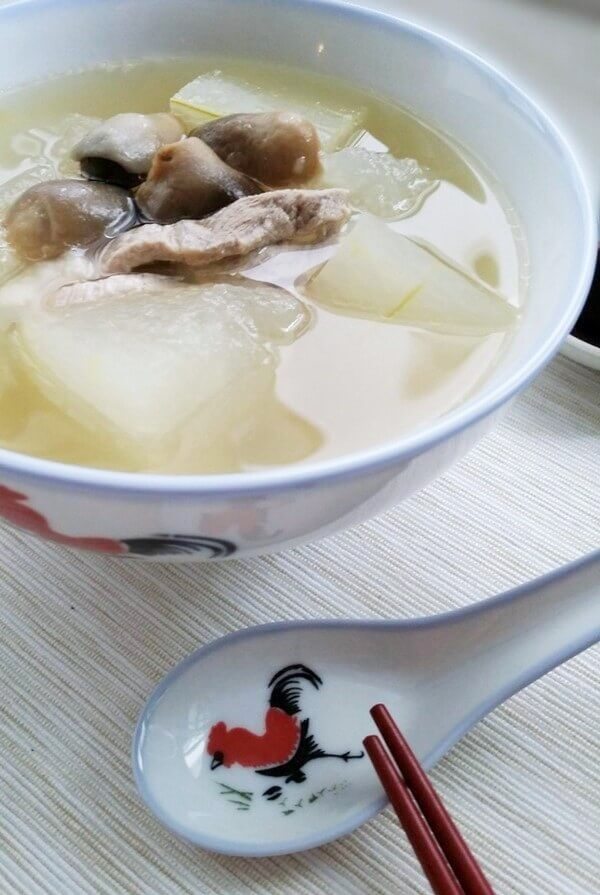 There are so many delicious variations of a winter melon soup. For this quick and easy Chinese winter melon soup recipe, you'll only need 30 minutes of cooking time. Perfect for days when you just want a tasty soup that can be prepared quickly and not spend too much time in the kitchen.
Winter melon has no flavor on its own but it will readily absorb the flavors of whatever liquid it is cooked in. To flavor the soup, I used ikan bilis (dried anchovies) and xia mi (dried small shrimps). Dried shrimps are a common ingredient used in Chinese foods from dim sum dishes like chee cheong fun (rice noodle roll), zongzi (Chinese dumpling) to stir-fries and sambal (a spicy condiment).
If you have small dried scallops, you may substitute the dried shrimps and ikan bilis with them. Small dried scallops are more suitable for quick boil soups compared to larger dried scallops as they cook faster. Be sure to soak them first before use.
Whole winter melons are huge; growing as large as 80 cm in length when matured. Buy the disc section of the winter melon for easier cutting and preparation. Trim off the skin and remove the seeds. Then cut it into large chunks.
Winter melon is known to have diuretic effect and helps to relieve heat related symptoms and clears toxin in our body. It is also high in dietary fibre and vitamin C and is very low in fat. So if you're on a weight loss plan, you may include this as part of your diet. It also has detoxifying effects, just like this Daikon Radish Soup. 
Dried winter melon is an ingredient which I like to use whenever I boil
barley water
. Another popular drink made with winter melon is winter melon tea, which my family and I love to drink. Candied winter melon is also used in the popular traditional Chinese pastry
'Wife Biscuit'/Winter Melon Puff (Lao Po Bing 老婆饼),
a snack I absolutely adore.
The straw mushrooms here provide a textural contrast to the soft winter melon. You can substitute them with other mushrooms like reconstituted dried shiitake mushrooms or button mushrooms if preferred. If you're using dried shiitake mushrooms, don't add too many of them or they will overwhelm the delicate flavor of the winter melon soup.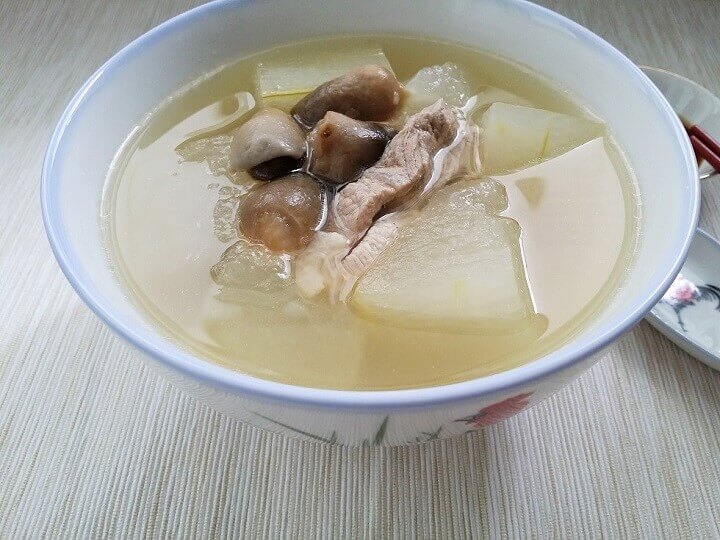 It took me less than an hour to cook this along with some rice and a veggie for a complete meal. Thoroughly satisfying! 🙂
Do you have a favourite way of cooking winter melon soup? Feel free to share with me your recipe and comments in the comments section below.
Other winter melon soup recipes you may like:
Winter Melon with Barley Soup.
Last but not least, if you've enjoyed this post, please share it on your social media. Happy cooking and see you soon! 🙂

Chinese Winter Melon Soup Recipe
A delicate and tasty soup to nourish and clear heat from your body.
Recipe type:
Quick Boil Soup
Ingredients
700 g winter melon disc - cut into large cubes
200 g lean pork - sliced into thin strips
200 g straw mushrooms - cut into halves
50 g ikan bilis
30 g dried shrimps
1.2 litres water (or use just enough water to immerse all the ingredients)
Seasoning for Lean Pork
½ tbsp light soy sauce
½ tbsp shallot oil (can be substituted with sesame oil)
½ tbsp corn starch
splash of Shaoxing wine
dash of white pepper
Salt - to taste
Instructions
Cut pork into thin slices of about 1cm width and season it with the marinade ingredients. Mix well and set aside.
Peel the winter melon skin with a sharp knife, remove the seeds and cut into large cubes.
Cut all the straw mushrooms into halves.
Rinse ikan bilis and dried shrimp. Place ikan bilis, dried shrimp and winter melon into a medium sized soup pot. Bring to a boil and simmer for about 25 minutes.
minutes before turning off the flame, add in sliced pork and straw mushrooms. Cover the pot and cook for about 3-5 minutes.
Season with salt to taste
Cooking Notes
Do not simmer the soup for too long or the lean pork will become tough and winter melon too soft.