A quick and easy way to cook vegetables is to blanch them before drizzling over some oyster sauce. Chinese broccoli with oyster sauce is an easy, simple and healthy dish. 
When it comes to vegetables, I usually go for the leafy parts and not so much of the stems. But not this time. The best part of Chinese broccoli (kai lan) for me is the thick and tender stems. They are sweet, slightly crunchy and so tasty with the sauce! So when I saw them in the market, I knew right away I was going to cook this Chinese broccoli with oyster sauce dish.
Although this dish is called 'Chinese Broccoli with Oyster Sauce', it takes more than just oyster sauce to make it delicious. It is the combination of fresh veggies, oyster sauce, fried garlic/shallot oil and the crispy garlic/shallots pieces tossed together that makes this healthy vegetable dish so delectable and flavorful.
How to Choose The Best Kai Lan
If you're buying kai lan from the supermarket or local market, try to choose the smaller stalks with fresh and dark colored leaves. Avoid those with yellowish leaves. The flower buds should be compact and unopened. If there are many opened flowers, it is very likely they are old and more bitter. I bought the short Hong Kong kai lan variety as I prefer this over the longer stalk variety for blanching.
Kai lan (also spelt as gai lan) is the Cantonese name for Chinese broccoli or Chinese kale as it is known in some countries. It belongs to the same species as broccoli but they are in different groups. You may find small flowers peeking out from the leaves of the kai lan. They resemble broccoli heads and that's why the kai lan is also known as Chinese broccoli.
How to Cook Chinese Broccoli
The three common ways to cook Chinese broccoli is by steaming, stir-frying and blanching. I'm using the blanching method for this recipe. You can use this method for other vegetables like broccoli, baby kai lan, choy sum (yu choy), lettuce, etc. I usually cook my veggies this way when I'm in a hurry as they are really quick to prepare.
I used fried shallot oil for this recipe but garlic oil works too. I usually make enough shallot oil to last me for about a week. Just remember to keep a close eye on the shallots/garlic when frying as they brown quickly especially the garlic. My fried shallots turned out a little too brown for my liking but at least they were crispy. 🙂
Chinese Broccoli Health Benefits
This veggie dish is not only delicious, it is also very healthy as well. Nutrition wise, Chinese broccoli is loaded with vitamins A, C and K and it also has calcium, iron and protein. Vitamin A helps to prevent cataracts, impaired night vision, and retinitis pigmentosa.
I also learned from this article that it has a high concentration of folate that may be beneficial to asthma sufferers. Chinese broccoli is also high in dietary fiber, which aids with food digestion and encourages bowel movements. So load up on your greens!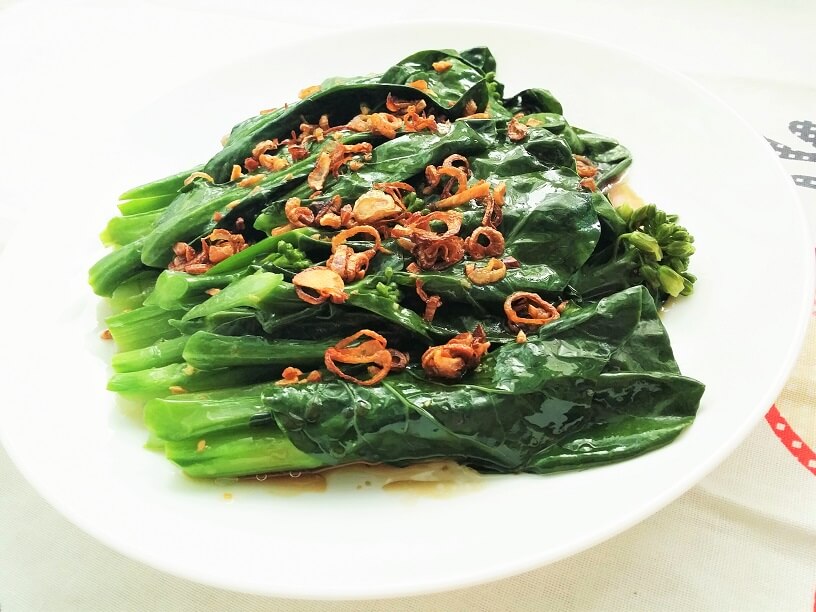 I enjoy eating the kai lan so much that I polished up almost everything myself 🙂 For a complete meal, pair this dish with a soup and a pork, chicken or seafood dish.
I hope you'll enjoy this Chinese broccoli with oyster sauce recipe. If you would like to stay connected, subscribe to my blog and receive updates delivered to your inbox! 🙂

Chinese Broccoli with Oyster Sauce Recipe
A quick and easy recipe for kailan (Chinese broccoli or Chinese kale) with oyster sauce and crispy fried shallots.
Ingredients
For blanching
1 bunch of kai lan (about 250g)
1 tbsp cooking oil
½ tsp salt


For frying
3 shallots, peeled and sliced
3 tbsp oil


For sauce (Mix well)
2 tbsp Lee Kum Kee oyster sauce
1 tbsp light soy sauce
4 tbsp water
½ tsp sugar
Instructions
Wash and drain kai lan. Then use a peeler or knife and peel off the bottom stem. Cut off the leaves from the stems.
To prepare shallot oil, heat up 3 tbsp of oil in a small saucepan and fry shallots till light golden brown. Stir constantly to prevent them from burning. Remove the fried shallots with a slotted spoon and set aside in a small bowl. Leave the oil in the pot.
In a wok/pot, fill up with about ⅓ full of water and bring to a boil. When it boils rapidly, add oil and salt followed by the kai lan. Boil briefly over medium heat for about 2 mins 30 seconds or until the stems are just tender. Remove with a slotted spoon and arrange on a serving plate.
To prepare sauce, heat up fried shallot oil (from step 2) and pour in the oyster sauce mixture. Stir with a spatula to prevent the sauce from burning. Make sure to use the lowest flame. Turn off the gas when the sauce is fragrant and slightly thickened.
Drizzle oyster sauce mixture over the kai lan. Top with fried shallot pieces and serve immediately.
Cooking Notes
1. I used a slotted spoon to remove the vegetables so that excess water can be drained away. Otherwise, the sauce will be too watery.
2. Chop off about 1 cm from the gai lan stem if it is dry.