Happycall Diamond Frying Pan Review : My Quest for The Best Non Stick Pan
If you've read my previous review on Happycall's Alumite Ceramic Pots, you'll know how much I love them. They are versatile, stylish, enduring and everything that I look for and more in a cooking pot. But what about this Happycall Diamond Frying Pan-Wok made by the same company? Is it just as good? We will find out in this Happycall Diamond Frying Pan Review.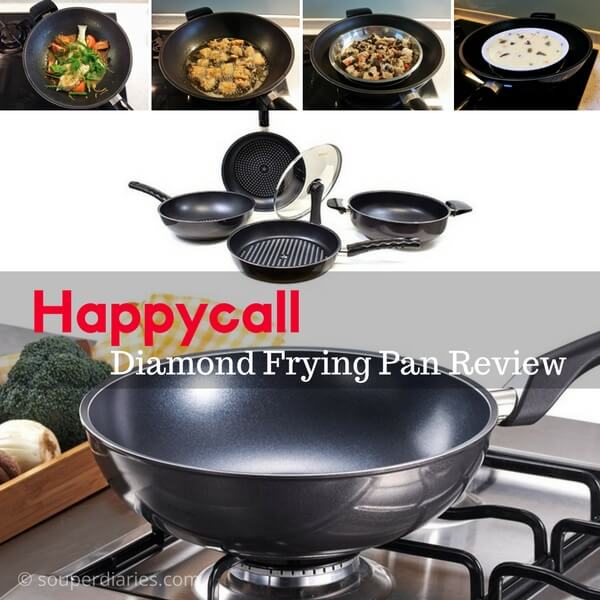 Being a full-time stay-at-home-mom who cooks almost daily, having the right cooking equipment is very important for me to help save time and be more efficient. I was tired of replacing my non-stick pans every 1 year or so. Even though they didn't last long, I kept on buying non-stick pans as I liked that food did not stick to my pan when cooking.

For years, I've been searching for the so-called "best" non-stick pan. I say so-called because all my previous nonstick cookware scratched easily and I had to discard them in less than 2 years. So when I bought Happycall's Diamond Frying Pan-Wok (which was my first Happycall product), I did not have much expectations of this pan due to my past experience with nonstick cookware.
Fast forward almost 4 years later and I'm still using it. Surprise, surprise! I never thought I would use it for as long as I did. Having said that, I do not think it will last me a lifetime. The thing about a nonstick pan is, I believe it has a shelf life even with vigilant care. However, there are some steps that you can take to prolong its usage. (See these 10 Tips on Caring For Your Nonstick Cookware).
So far, Happycall's Diamond Frying Pans are the best non-stick pans that I've come across. They heat up quickly and evenly and gets food to the table fast. They are also easy to clean.
---
The Product
Happycall has 4 types of pans in the Diamond Series. The frying pan, pan-wok, party wok and grill pan. All of them use the same material and diamond coating on the interior of the pan. For this review, I will be focusing on the Happycall Diamond Frying Pan-Wok. It is a wok and pan in one.
Below is the Happycall Diamond Frying Pan Wok shown from different angles.
This short video shows how a Happycall Frying Pan performs compared with a generic one.
What is diamond coating?
Diamond conducts heat 5 times better than copper. 5-layer diamond non-stick coating is used to make the best non-stick cookware in Happycall. The pan is made with forged aluminum so that heat is evenly distributed and coating lasts a longer time. The exterior is coated with porcelain, making cleaning a breeze. Happycall's Diamond Frying Pans are designed to be lightweight, strong and durable.
Why I Use Nonstick Cookware From Happycall
There are a lot of concerns surrounding nonstick cookware. Is nonstick cookware safe? The dangers of teflon. So on and so forth. What's the beef with nonstick? The reason why I do not worry about using Happycall's diamond nonstick pans is they are free from potentially toxic chemicals called PFOA and PTFE.
What is PFOA? PFOA (also known as C8) is short for perfluorooctanoic acid, a synthetic chemical compound that is used in the process of making Teflon. PFOA is extremely persistent in the environment and is resistant to typical environmental degradation processes. (source)
Over at Goodhousekeeping, the consensus is nonstick can be used safely, as long as you use it properly. Use your nonstick cookware for food that cooks quickly on low to medium heat and coats most of the surface of the pan (it helps bring down the pan's temperature).
Although I own a range of cookwares with different materials, having at least one non-stick pan is important to me as it is useful for cooking certain types of food like scrambled eggs, soft tofu, pancakes, fried fish and the like. These foods stick easily on cookwares like stainless steel (especially if you don't get the heat right) so a non-stick pan helps to prevent that. I also do not have to use as much oil.
---
Here is a quick video showing the Happycall Diamond Pans in action.
What You can Cook with Happycall Diamond Frying Pans
As you can see from the video, you can cook all kinds of food with Happycall Diamond frying pans. This range of cookware is versatile enough for me to cook everything from deep-fried food, steaming, stir-fries to simple scrambled eggs. These are some of the dishes that I cooked with my Happycall Diamond Wok Pan (12″):
---
2500 Ton Forged Aluminum Construction:

Happycall Diamond Pan forged with this special method makes it more dense and solid than general casting frying pans and provides excellent smoothness.
5 Layers of Diamond coating, Best known NON-STICK cooking surface: 

Strong Diamond DNC 5 layers coating ensures strength and hardness to resist scratch,

abrasion

and corrosion. The 'non-stick' function prevents food from sticking to the surface and provides easy cleaning.
Protective Porcelain Anti-Scratch, Anti-Stain Outer Coating: 

Eco-friendly Porcelain triple coating is applied making the Happycall Diamond Frying Pan strong against exterior scratches and peels.
4 times more heat conductive than most cookware: Diamond has the best heat conductivity (5 times more than copper, 140 times more than stainless steel) and is not harmful to the human body.
PFOA Free: No environmental harmful substance was found. Its coating is non-toxic.
Other cool features:
Ergonomic bakelite handle and flame guard

Quarter inches thick yet lightweight aluminum construction

Extra durability & strength

Heat source ready: electric hob, vitro ceramic, gas hob

Dishwasher safe but hand washing is recommended
Watch this short video to see more of Happycall Diamond Frying Pan features:
How Well Does It Work?
This is what I feel about Happycall's diamond pan-wok after 4 years of usage.
Pros
1. It still heats up quickly and does a good job of searing meats and fishes.
2. I like the sloping edge of the wok-pan so food and oil do not splash out easily especially when I cook a larger amount of food. 
3. The wok-pan is very versatile. I do all kinds of cooking with it from steaming to deep frying, stir-fries, fried noodles and fried rice, fried food to scrambled eggs.
4. The handle provides a comfortable grip.
5. The construction of this wok-pan is very sturdy. You will know at once when you lift it up.
6. High-quality product at reasonable price. 
Cons
1. Depending on the food, a little more oil is needed now to cook compared to when I first bought it. 
2. The stand-alone wok does not come with a cover unless you are getting the pan and wok set. To get around this, I use a cover from my old pan with a similar size and it fits perfectly. 
3. The wok-pan is quite heavy so it is not so suitable for flipping food. Happycall's Diamond Frying Pan would be more suitable if you wish to toss your food around in the pan when cooking.
Price and Size
Happycall 5 Layer Diamond Nonstick Wok is available in 4 sizes.
11″ $42.99 USD and
You can also get both frying pan and pan-wok with cover (11″) 3 piece set at $94.85 USD which I think is a very good deal.
---
Final Thoughts
Admittedly, I did not treat my Happycall Diamond frying pan-wok with as much care as I did for my Happycall alumite ceramic pots. However, the fact that I'm still able to use it for about 4 years now is a major improvement for me compared to my previous non-stick pans which lasted 1 to 2 years at the most. And for that, I won't complain.
This product is of high-quality and is reasonably priced but I do not expect it to last forever. Nevertheless, to put it plainly, even if I were to toss it away now, I would have gotten my money's worth out of this pan.
But of course, I'm keeping this as long as it is still usable. She's one of my wonderful helpers in the kitchen. As a stay-home mom with her hands full looking after 3 young children, good quality cookware is very important to me. If I were to buy another non-stick pan in future, Happycall would still be my choice as it is a brand I trust for its quality and I really enjoy using it.
Innovation never stops and neither does Happycall.
Where Can You Get It?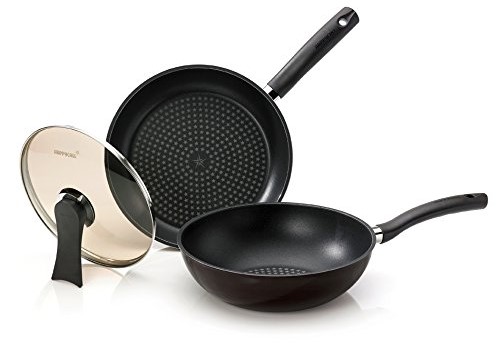 Browse and find your favourite Happycall frying pans at:

For Singapore residents, you can also buy them from: