Happycall Diamond Frying Pan Review : My Quest for The Best Non Stick Pan
If you've read my previous review on Happycall's Alumite Ceramic Pots, you'll know how much I love them. They are versatile, stylish, enduring and everything that I look for and more in a cooking pot. But what about this Diamond Frying Pan made by the same company? Is it just as good? We will find out in this Happycall Diamond Frying Pan Review.
Last updated on 7/11/17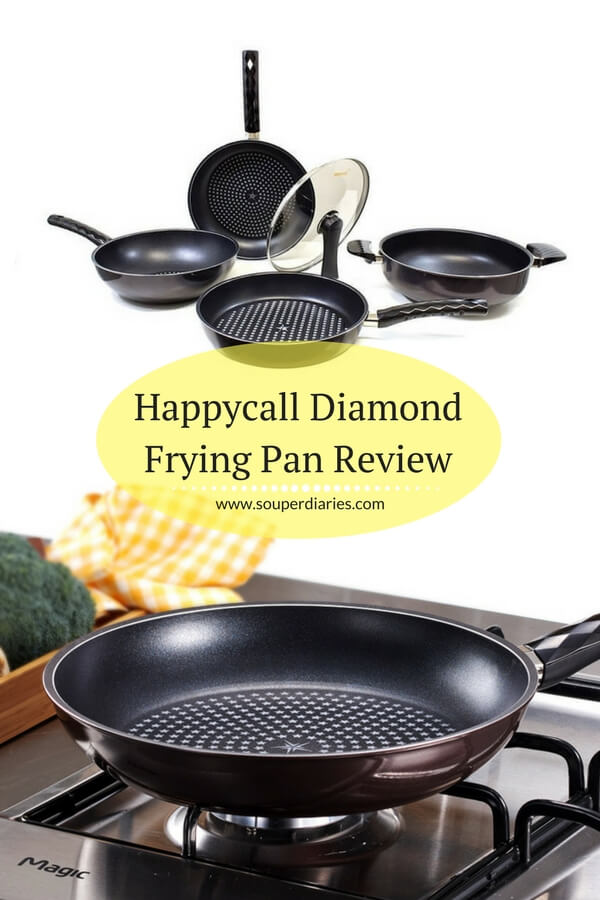 (This review contains my affiliate links. All opinions expressed are my own)
Product Overview
The diamond frying pan is one of Happycall's steady bestseller. Made with forged aluminum so that heat is evenly distributed and coating lasts a longer time, it is designed to be durable and lightweight. It is one of 5 products in the Diamond Series category.

The rest are the:
Key Features
2500 Ton Forged Aluminum Construction:

Happycall Diamond Pan forged with this special method makes it more dense and solid than most frying pans and provides excellent smoothness.
5 Layers of Diamond coating : 

The multiple layers of coating ensures strength and hardness to resist scratch, abrasion and corrosion. The 'non-stick' function prevents food from sticking to the surface and makes cleaning a breeze.
4 times more heat conductive than most cookware: Diamond has the best heat conductivity (5 times more than copper, 140 times more than stainless steel) and is not harmful to the human body.
PFOA Free: No environmental harmful substance was found. Its coating is non-toxic.
Other cool features:
Special bending method on the side of the pan to prevent oil or food from flowing down

Eco-friendly porcelain coating on the exterior for easy cleaning and scratch resistance
Ergonomic handle with hanging feature
Specifications
Product Type: Frying pan / skillet
Manufacturer: Happycall Co., Ltd (South Korea)
Diameter: 11″ (also available in 7.9″, 9.4″, 10.2″, 11″, 11.8″ and 12.6″)
Weight: 950 g
Body Material: 

2500-ton forged aluminum construction

. Handle – Bakelite
Coating: Interior – 5 layers of nonstick diamond coating. Exterior – Eco-friendly porcelain
Stove compatibility: Gas, electric, halogen and ceramic
Color: Black
Scratch resistant: Yes
Rust resistant: Yes
Warp resistant: Yes
Dishwasher safe: Yes
Oven safe: No
Lid included: No
PFOA Free: Yes
Eco friendly: Yes
This short video shows how a Happycall Frying Pan performs compared with a generic frying pan.
My Experience with Happycall's Diamond Frying Pan
As a busy mom of 3 who cooks almost daily, having the right cooking equipment is very important for me to help save time and be more efficient. I was tired of replacing my non-stick pans every year or so.
So when I bought Happycall's Diamond Frying Pan-Wok (which was my first Happycall product), I did not have much expectations of this pan as all my previous nonstick cookware had to be discarded in less than 2 years.
I ended up using this pan for about 4 years. I never thought it would last for as long as it did as I cooked with it frequently and to be honest, I didn't really treat it with much care.
I liked it so much that I went on to buy the Diamond frying pan. The nonstick coating works great but you have to know how to look after your nonstick pans if you want the nonstick coating to last for a longer time.
>> Related: 10 Tips on Caring For Your Nonstick Cookware. <<
What is diamond coating?
from Happycall's official website –
"Diamond has a property of matter strong enough to cut iron or stone, and smooth surface characteristics. In addition, diamond has the best heat conductivity (5 times more than copper, 140 times more than stainless) and is not harmful to the human body. A new technology (making nano from the diamond crystal structure) has been applied to Happycall diamond coating, which was developed together with the Nano Science Research Team in Pusan National University." 
>> Related: Click here to see Happycall's latest induction compatible titanium frying pan <<
Here is a short cooking demonstration using Happycall Diamond Frying Pans.
Cooking with Happycall Diamond Frying Pans
How Well Does It Work?
Cons
1. The pan does not come with a cover unless you are getting the frying pan and wok set. It's not a deal breaker for me. To get around this, I use a cover from my old pan with a similar size and it fits perfectly.
Pros
1. Heats up quickly and does a good job of searing meats and fishes.
2. Well made with a sturdy construction. You will know at once when you lift it up.
3. The handle provides a comfortable grip.
4. Easy to clean.
5. High-quality product at affordable price.
What Do Other Users Think of Happycall Diamond Frying Pan?
I'm not the only one who loves Happycall's Diamond Frying Pan. The reviews of Happycall Diamond frying pan are overwhelmingly positive. Many of them find the nonstick qualities of this pan amazing. They also love how easy clean-up is, the even heat distribution of the pan and good value for the price.
There were a few negatives, of course. They include the pan not having a lid and some mentioned that the product arrived dented. A few of them said that the nonstick feature wore off after a few months of use. As I mentioned earlier, you need to know how to care for your nonstick pan to prolong its usage. That includes seasoning the pan before the first use for optimal performance.
Watch this short video to see more of Happycall Diamond Frying Pan's features:
---
Bottom Line
If you're thinking of getting a good quality nonstick frying pan at an affordable price, this is it. Happycall's Diamond frying pan is just as what it advertised:
✓ Excellent nonstick function
✓ Easy to use and cook
✓ Easy to clean
Just so you know, do not expect this pan to last for years and years (it's a nonstick pan after all) especially if it is not treated with reasonable care. I replaced my Happycall Diamond pan-wok after 4 years.
That to me, is a major improvement as I used to replace my nonstick pans every 1 to 2 years. And for that, I won't complain.
To put it plainly, I have gotten my money's worth out of this pan considering how often I used it.
If I were to buy another non-stick pan in future, Happycall would still be my choice as it is a brand I trust for its quality and I enjoy using their products.
Read my detailed review on the latest Happycall titanium frying pan if you need a nonstick pan that is induction ready.         
Where Can You Get It?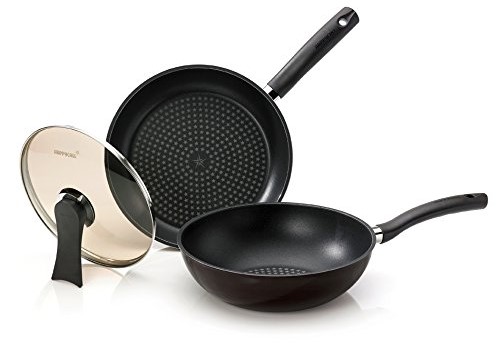 Browse and find your favourite Happycall frying pans at: