Thinking about getting the Happycall Plasma IH frying pan? Or some would call it Happycall titanium frying pan. Read my review on this pan and how it stacks up against the earlier Happycall Diamond frying pan.
(this post contains my affiliate links)
Product Overview
Plasma IH titanium is Happycall's high-end range of cookware. It has most of the features of its predecessor (the Diamond pan) but with stronger nonstick surface and exterior and is compatible with all heat sources, including induction. It uses premium titanium nonstick coating. Titanium alloy is 6 times stronger than aluminium, 2 times stronger than iron and 43% lighter than iron.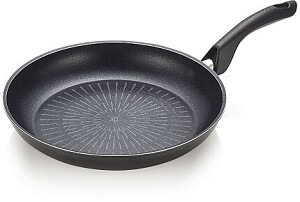 Specifications
Product Type: Frying pan / skillet
Manufacturer: Happycall Co., Ltd (South Korea)
Diameter: 11″ (also available in 8″, 9″, 10″, 12″ and 13″)
Weight: 1020 g
Body Material: Titanium, aluminium (97% purity) and stainless steel. Handle – Bakelite
Coating: Interior – Titanium. Exterior: Silica
Stove compatibility: Induction, gas, electric, halogen and ceramic
Color: Metal Gray
Scratch resistant: Yes
Rust resistant: Yes
Warp resistant: Yes
Corrosion resistant: Yes
Dishwasher safe: Yes
Oven safe: No
Lid included: No (available for purchase separately)
PFOA: Flawless PFOA 0%
Eco friendly: Yes
Available at: Amazon
Special note: Product sold by Amazon.com or Happycall Cookware is guaranteed authentic and will include English manuals and customer support
Other Cool Features
Rivetless design makes it hygenic and easy to clean.
Heat resistant and scratch resistant silica exterior.
Flawless Zero PFOA. Harmful PFOA is not only undetected in this pan, it is not used at all.
It has a hanging hole on the handle so this is very useful if space is an issue.
This video highlights the tough exterior of Happycall Plasma IH Frying Pan.
Cons of the Happycall Plasma IH Frying Pan
#1. No lid.
It does not come with a lid if you buy the individual pan but is sold separately. But you can easily use a lid from another pan as long as it fits. Only the premium set comes with a lid.
#2. Heavy (compared to other nonstick pans).
I find this pan heavier than a regular nonstick pan, so it is harder for me to flip food when cooking. This is likely due to the layer of stainless steel in the pan to make it induction ready.
#3. Harder to clean.
The interior of the pan is very easy to clean as the surface is smooth but the bottom of the pan is not as easy as it has many circular grooves. Which was why I experimented with using a steel scourer to clean the bottom as I'm very particular about not having grease accumulate on and in between the grooves.
Things I love about Happycall Plasma IH Frying Pan
#1. Exceptional heat resistance.
One of the first things I observed when cooking with this pan is that it can withstand very high heat. Usually, I don't recommend using high heat with nonstick pans, but this "rule" doesn't seem to apply to this pan.
Sometimes, I cook with the same type of heat as I would with a stainless steel pan and it doesn't warp this nonstick pan in any way. (Make sure the heat source is not too close to the handle because unlike the body of the frying pan, the handle is made of bakelite).
#2. Great aesthetics and construction.
Sleek design with a comfortable to grip ergonomic handle. Almost sexy (if you can call it that) especially when new. The construction is solid and well made.
#3. Superb nonstick feature.
Food does not adhere to the pan even with minimal oil and heat is distributed evenly.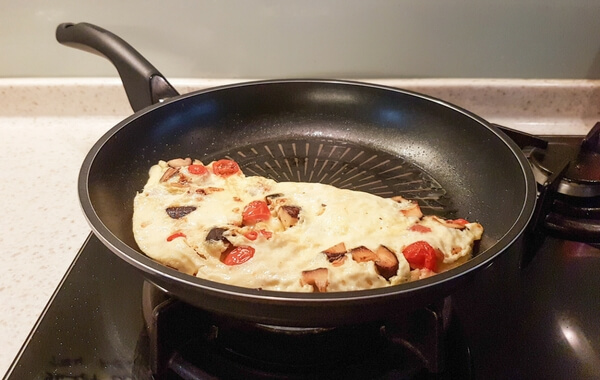 #4. Tough exterior.
I really love the improved exterior with silica coating. On several occasions, I've scrubbed the bottom (not the bottom edge or it will be scuffed. Yes, I tried that) with a steel scourer and it doesn't even leave a hairline scratch. You'll have to use your discretion on applying the right amount of pressure (not brute strength) when cleaning. Having said that, DO NOT scrub the interior of the pan with anything abrasive or you'll risk ruining the nonstick coating.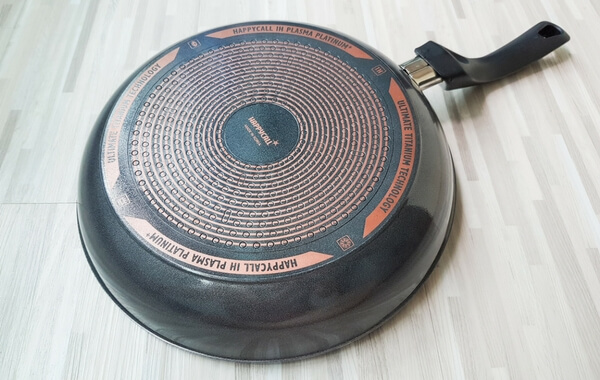 How to Care for your Nonstick Pan
Like any other nonstick pans, the Happycall frying pan needs reasonable care to keep it in good condition. If you have more than one nonstick frying pan, I highly recommend that you alternate the pans when cooking.
This way, no individual pan will be overused and it will help to extend the shelf-life of your nonstick pan. Read this article on more tips to care for your nonstick pans.
Watch it in Action! (Cooking Video)
For those who like to watch a cooking demonstration, this is for you!
Happycall Diamond Frying Pan
vs
Happycall Plasma IH Frying Pan
In this table, I will highlight the main differences between these two frying pans by Happycall. Note that both the Diamond range and Plasma IH range come in multiple sizes.
| | Happycall Diamond Frying Pan | Happycall Plasma IH Pan |
| --- | --- | --- |
| | | |
| Color | Black | Metal gray |
| Material | Body: Aluminium. Handle: Bakelite | Body: Titanium, aluminium and stainless steel. Handle: Bakelite |
| Coating | Interior: 5 layers Diamond nonstick coating. Exterior: Porcelain | Interior: Premium titanium nonstick coating. Exterior: Heat resistant silica |
| Cleanup | Easy | Easy to moderate |
| Stove type | Gas, electric, halogen and glass | All types including induction |
| | Check price | Check price |
Which one should I choose? Happycall Diamond Frying Pan or Happycall Plasma IH Frying Pan?
If you're using an induction stovetop at home or plan to switch to an induction stovetop, then it's a no brainer. Go for the Happycall Plasma IH pan as it is induction cooktop ready.
For other types of cooktop, it will depend on your budget and what you look for in a nonstick cookware.
For me personally, when choosing a nonstick pan, these are the qualities I look for:
PFOA free
Scratch resistant
Strong nonstick surface
Cooks evenly
Durability (although nonstick pans are not as durable as other types of cookware I'd want something that I don't have to toss away within a year or two)
I use both and each has its own merits. The Diamond pan trumps in these areas – affordability and slightly easier clean up.
As for the Plasma pan, it has a much stronger exterior and nonstick surface and is induction cooktop ready.
You really can't go wrong with either!
Bottomline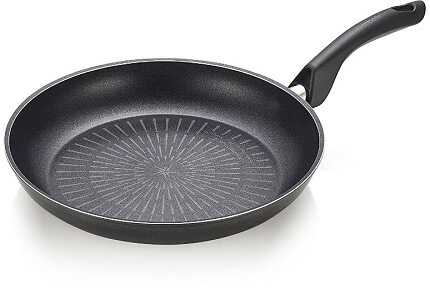 If you're like me and need to have at least one nonstick pan in your kitchen (because for delicate foods, cooking with a nonstick pan will make life so much easier), then I highly recommend Happycall's Plasma IH frying pan.
To recap, here are the highlights of this frying pan:
✔ Premium titanium coating (for extra durability, corrosion resistance and superior nonstick feature)
✔ Sleek silica exterior for excellent heat and scratch resistance
✔ No PFOA is used (no environmentally harmful substance was found)
✔ Compatible with all heat sources including induction
---
Have you used the Happycall titanium frying pan? Share your thoughts or questions here by leaving a comment!