Are you one of those who love to use nonstick cookware but is fed up of having them replaced ever so often? After ruining many of my nonstick pans, I resolved to take better care of them.
Nonstick pans are a great kitchen tool but they're not as durable as other cookwares like cast iron and stainless steel. That's why you'd want to follow these tips to care for your nonstick cookware to extend their lifespan for as long as possible.
Before we get into the nitty-gritty, these are signs that the nonstick coating of your pan is wearing off.
The surface of your nonstick pan is getting dull and the shine is gone.
Food starts to stick easily and more oil is needed to cook.
While it's best to check with your cookware's manufacturer for specific instructions and recommendations, here are some general tips on how to care for nonstick cookware.
1. Pre-season the pan before the first use
A little seasoning can help to prolong the cookware's life. For new pans, clean the pan gently with a soft sponge to remove any manufacturing residue. The Kitchn recommends adding a thin layer of oil to the cookware. Then heat in a 300°F oven for an hour. Let cool and wipe off excess oil with paper towels.
I personally would check the cookware's manual before putting any nonstick pans into the oven for the maximum temperature advised. Some pans cannot go into the oven at all. If that is the case, wash first before lightly greasing the pan's surface with oil. Then heat over medium heat for a few minutes. Let cool, wash with mild detergent and rinse clean. Now it's ready to be used.
2. Do not use cooking sprays on nonstick pans
Using cooking sprays time after time will cause residue to build up especially on the sides of the pan if it isn't properly washed after each use. Eventually, this will cause the pan to turn sticky and food to cook unevenly.
3. Avoid preheating an empty pan 
Some nonstick pans can potentially produce unhealthy fumes when it is heated without oil. Oiling the pan also improves the nonstick effects of the cookware.
4. Cook on low and medium heat
Avoid cooking with high heat. Over time, constant exposure to high heat will cause the nonstick coating to deteriorate. That being said, some nonstick pan's coating have a higher tolerance to heat. I find that Happycall's pan with titanium coating allows me to cook with higher heat.
How hot is too hot? According to Good HouseKeeping, at temperatures above 500ºF, the breakdown of teflon begins and smaller chemical fragments are released.
Nonstick pans can rise quickly to the maximum recommended temperature for cooking (500ºF), so use low to moderate heat and allow the pan to rise to the desired temperature slowly.
5. Use Safe Cooking Utensils
Don't use metal utensils of any kind (forks, knives, metal spatulas, whisks, etc) on your nonstick pans. Ever. They might pierce and damage the nonstick coating of the pan. Wooden spoons and silicone spatulas with rounded edges are a better choice. I use them on all my cookware and even on those made with stainless steel.
Lately I've been using only silicone spatulas when cooking on my nonstick cookware. Why silicon spatulas? They are more flexible compared to wooden spoons. Even if you accidentally pressed too hard on the pan, you will not leave scratches (including hairline ones) on your pan. They also do not get stained easily.
Some meats with sharp edges (think t-bone steaks, lamb chops, pork chops and the like) may also leave hairline scratches when moved about in the nonstick pan. So, when it comes to cooking these kinds of meat, I would prefer to use other cookware like stainless steel or cast iron.
6. Let nonstick cookware cool first before washing 
Washing a very hot pan in cold water is not advisable. Sudden changes in temperature could permanently warp your pan and warped pans do not cook food evenly. This affects cheaper pans more than the higher end ones. Allow your pan to cool before washing. Wash all traces of food carefully and completely. Then rinse thoroughly and dry. A clean pan will ensure consistent and quality performance.
7. Hand-wash and dry after every use
Even if your nonstick pans claim to be dishwasher safe, it is much better to hand-wash them to protect the surface. After using the pans, it's best to hand wash and dry them soon with a soft cloth to prevent rust from forming. I personally do that for all my pots and pans regardless of the cookware material.
Remember to clean the bottom of the pan too when washing. Otherwise, food or oil residue will harden and stick. Over time, it will take some serious elbow grease to have it removed.
Be sure to use mild washing detergents and not abrasive cleaners and chemicals. It can be tempting to use a dishwasher for convenience but the intense heat and strong washing detergents can ruin the nonstick coating over time.
8. Don't use abrasive cleaning materials
Steel wool, stiff bristle brushes or scouring pads are a big no-no. These will scratch the nonstick coating and cause permanent damage. If you find that your nonstick pan surface pitted or the coating is wearing off, it's best to replace them. You don't want bits of the coating to end up in your food.
When cleaning, always use soft sponges or wash cloths. If you have food stuck to your pan, let it soak in water for awhile to help loosen the hardened bits before cleaning.
9. Don't store food in your nonstick pan
Certain foods (especially highly acidic food) can corrode the nonstick coating of your pan. To store leftover food, keep them in containers that are safe to be refrigerated. Your nonstick pans are meant for cooking and not for food storage. Also, storing them in your nonstick cookware will promote a breeding ground for bacteria.
10. Store your nonstick cookware properly 
Store them on their own as far as possible. If it is necessary to stack your nonstick cookware due to space constraint, put a soft cloth or dish towel between them to prevent the pots and pans from rubbing against each other and causing scratches.
And that's it!
Nonstick pans are great to have in the kitchen. With careful use and good care, you can extend their lifespan a whole lot longer.
Remembering all the dos and don'ts may be hard so I've summarized them into an infographics. Here they are in a nutshell: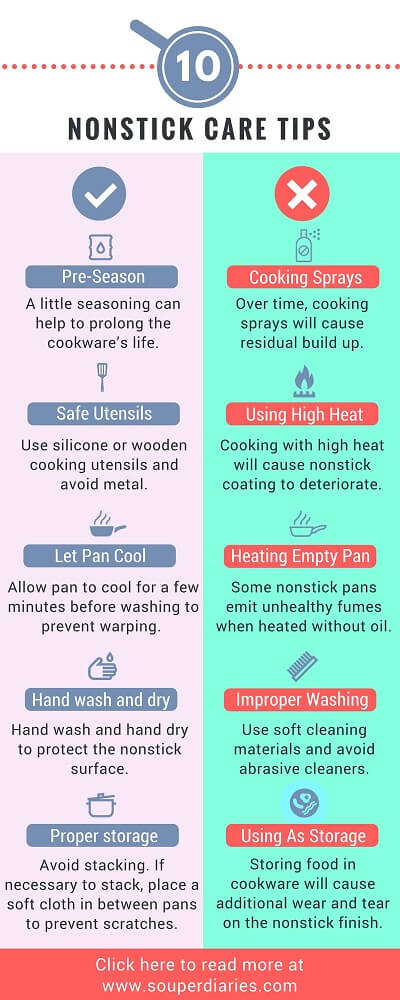 P/S: Feel free to pin it. Thanks!