Roasted pumpkin apple soup – a healthy creamy soup without any added cream. Vegan friendly, gluten free and ready to eat in 1 hour!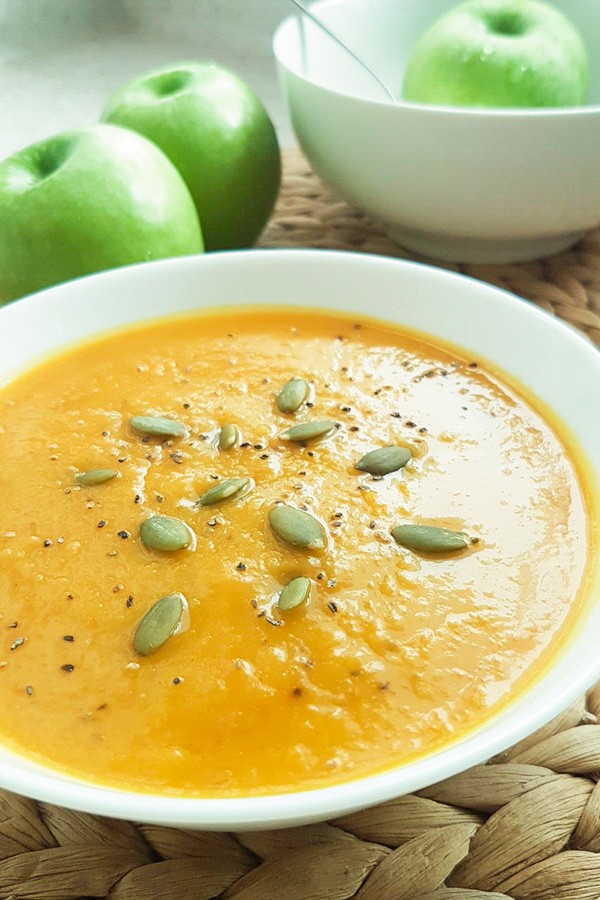 Previously, I shared a Chinese-styled pumpkin soup which is lovely for the warmer weathers. Today's pumpkin soup is perfect for the colder weathers as it is richer and creamy.
I love the versatility of the pumpkin and how it can be cooked in so many ways. Pureed soup is something that my family enjoy when eating out but it's not something you'll often see on our dinner table at home as I usually cook Chinese soup.
The Pumpkin
While pumpkins are tasty, healthy and all, they're not the easiest things to cut; with some varieties more so than others. Roasting the pumpkin not only makes scooping out the meat easier but more importantly, it lends a greater depth of flavor to the soup. The pumpkin gets caramelized during the roasting process and this enhances the sweetness of the pumpkin.
Don't fret if you don't have an oven. You can also make this creamy pumpkin soup without one. But you'll definitely have to cut up the pumpkin into pieces first before cooking them over a stove-top.
I love the taste of the roasted pumpkin mixture so much. The parts where they were kissed by the salt and olive oil just hit the right spot. I even ate the skin. It was so good. It makes me want to roast all my vegetables from now on. Just saying.
The Apple
Use any type of apples you like. I personally prefer the sweeter ones. However, tart varieties such as Granny Smith will balance the sweetness of the pumpkins. Other types that I tried for this soup include Fuji apples and Gala apples.
You may also like: Apple with Pork Ribs Soup
The Liquid
If you plan to add stock into this soup, I highly recommend that you use unsalted homemade stock. Commercial stock usually has a lot of ingredients and is way too salty. I tried making this soup with store bought chicken stock and vegetable stock on separate occasions and it didn't turn out well for me. The flavors of the boxed stock overwhelmed all the other ingredients in the pumpkin soup and I didn't like that.
As I didn't have any homemade stock on hand, I ended up using water for the liquid. Yes, I would rather add water than commercial stock for this soup. I added some bay leaves and paprika for extra flavors. The paprika (I used McCormick) provided a touch of heat in the soup.
Update on 12/4/18: I made this roasted pumpkin apple soup again and today I added some coconut milk. It makes the soup more filling that way but still delicious.
The Process
It's really easy to make this roasted pumpkin apple soup. Once the roasting part is finished, the rest can be done quickly. And as I mentioned before, you could also cook the pumpkin over a stove-top if you don't have an oven.
The combination of ingredients are endless. You can add your favorite spice or herb to the mix if you wish. I like to keep things simple with minimal ingredients.
Blending all the ingredients will give it that creamy consistency. You could use either an immersion blender (lesser clean up) or a heat resistant blender (more power and faster) and blitz everything till it is smooth. If you find the consistency of the soup is too thick, add a little water or homemade stock to thin it out.
How to Blend Hot Liquids Safely
Unless you're using a heat resistant blender (I love Happycall's), you don't want to blend a soup when it's still piping hot. This causes pressure to build up in the blender and could blow off the cover. Wait for the soup to cool down a little.
Don't overfill the blender but fill it up to about halfway and make sure the lid is properly fastened.
If your blender lid comes with a feeder cap, remove the cap before blending.
As a safety precaution, throw a small towel over the blender before blending to avoid accidents.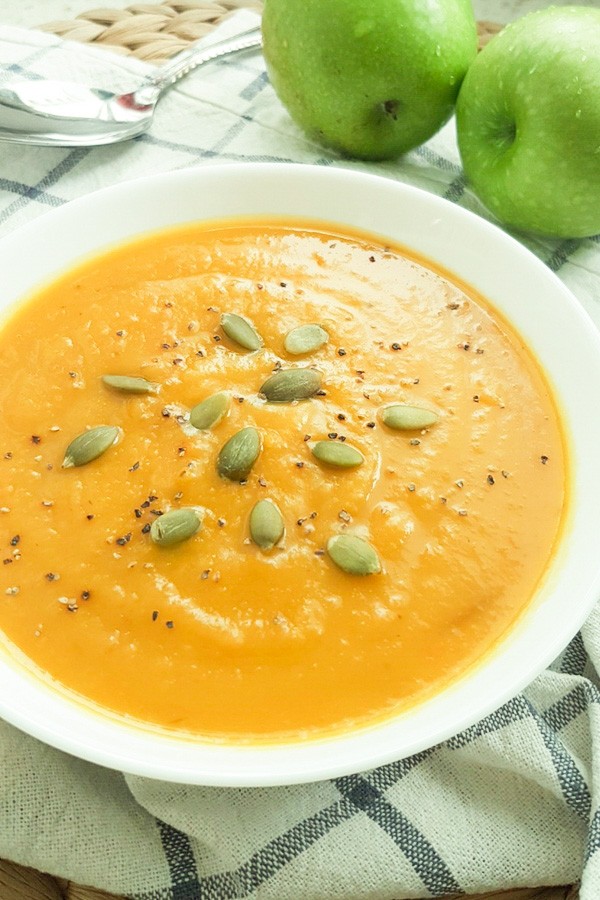 Pureed soups don't keep very well so don't leave it out for too long. Serve immediately after it's done. I'm not crazy about cold refrigerated soups so I tend to finish mine on the same day.
This roasted pumpkin apple soup is delicately sweet and fragrant with the aroma of roasted apples and bayleaf. Serve this as an appetizer or a light meal!
Other soup with fruit recipes you may like:
Green Papaya Fish Soup
Pear with Pork Ribs Soup
Bitter Melon with Pineapple Soup

Roasted Pumpkin Apple Soup
Roasted pumpkin apple soup – a healthy creamy soup without any added cream. Vegan friendly, gluten free and ready to eat in 1 hour!
Recipe type:
Quick Soup Recipes
Ingredients
Pumpkin (about 500 g)
2 apples - washed, cored and quartered (leave skin on)
1 carrot - peeled and cut into chunks
1 onion - skin removed and chopped
2 bay leaves
3 - 4 shakes of smoked paprika
1 cup light coconut milk (or use ½ cup coconut milk and increase water)
2 cups water
2 tbsp olive oil (divided)
Salt
Black pepper
Garnish
Black pepper
Pumpkin seeds
Tools
Instructions
Wash pumpkin and remove seeds. Remove skin and cut pumpkin into pieces. Alternatively, you could leave the skin on and remove the pumpkin flesh later. Place pumpkin pieces, onions, apples and carrot on a parchment lined baking tray. Drizzle with 1 tbsp olive oil and sprinkle with salt.
Preheat oven at 180 degrees C. Roast for 30 minutes or until the pumpkin and carrots are soft and lightly caramelized at the edges.
Heat 1 tbsp of olive oil in a medium sized deep pot. Saute onions till soft and translucent. Add roasted ingredients, paprika and bay leaves into the pot and saute for another minute.
Add water. Bring to a boil and simmer for about 5 minutes. Taste and season with salt and pepper.
Remove bay leaves. Use an immersion blender or heat resistant blender and blend the soup till smooth. If you find the soup consistency too thick, add a little water to thin it out.
Pour into serving bowls. Garnish with your favorite toppings. Garnishing suggestions: pumpkin seeds, chili, black pepper, chopped coriander, cream, etc.
Cooking Notes
1. Roasting time will vary depending on how thick the pumpkins are cut. You may have to adjust the timing.
2. Don't blend the pumpkins with the skin on or the soup will take on a greenish tinge and a rustic flavor. Yep, I tried that.
3. Use a pot with a high wall when making this soup. It will help prevent the hot soup from splashing up if you're using an immersion blender.
If you give this recipe a try, let me know! Leave a comment or take a picture and hashtag
@souperdiaries
on Twitter or
#souperdiaries
on Instagram. I'd love to see what you cook up. xoxo