Bitter gourd is a popular ingredient in Chinese cuisine. This vegetable (or fruit if you want to be precise) can be cooked in many ways. This bitter gourd soup recipe with salted vegetables is one of them.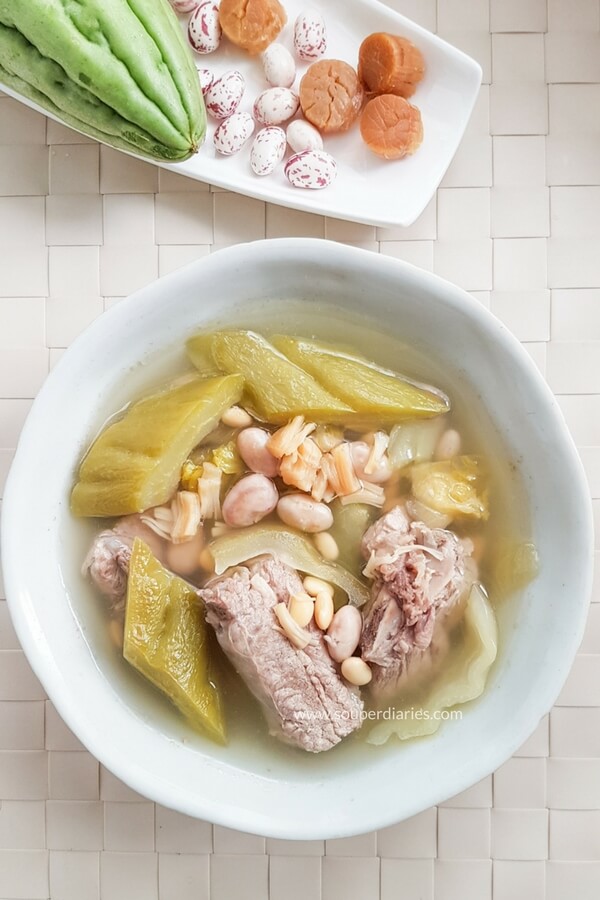 In TCM, bitter gourd is considered a yin food (food with cooling properties). It can help to cool the body and reduce internal heat. Bitter gourd has many health benefits and is especially beneficial in the hot seasons. It is often used for medicinal purposes. Some of its health benefits include:
Managing blood sugar levels and diabetes. Bitter gourd has at least 3 active substances which help to reduce blood sugar levels. (details here)
Promotes good skin
Reduce inflammation as bitter gourd has anti-inflammatory properties
Inhibits cancer cell growth (details here)
As bitter gourd has numerous health benefits, it is often used as a home remedy by many cultures around the world. However, not many people enjoy eating bitter gourd due to its distinctive bitter taste. For some, it is an acquired taste.
To draw the bitterness from the bitter gourd, blanch the bitter gourd in boiling water for a few minutes. Then plunge in cold water before cooking. Slicing the bitter gourd very thinly before blanching may help too. But for this soup, I would prefer to cut the bitter gourd at an angle into large pieces. You can cut it into smaller pieces if you wish.
It is very common to add other ingredients into a bitter gourd soup to balance the bitter taste and make it more palatable. For instance, salted vegetables and dried scallops help to make this soup more appetizing. In another bitter gourd soup recipe, I added some pineapple and the resultant soup was very soothing, naturally sweet with slightly bitter undertones.
 
My kids love cranberry beans (珍珠豆) as they have a soft and creamy texture when cooked so I used them in this soup too. They look very pretty in their raw state but the color goes away with cooking and will eventually turn brown. I bought them fresh from the market and it only took about half an hour for the beans to cook. You may also use dried cranberry beans but they would have to be soaked for several hours before cooking.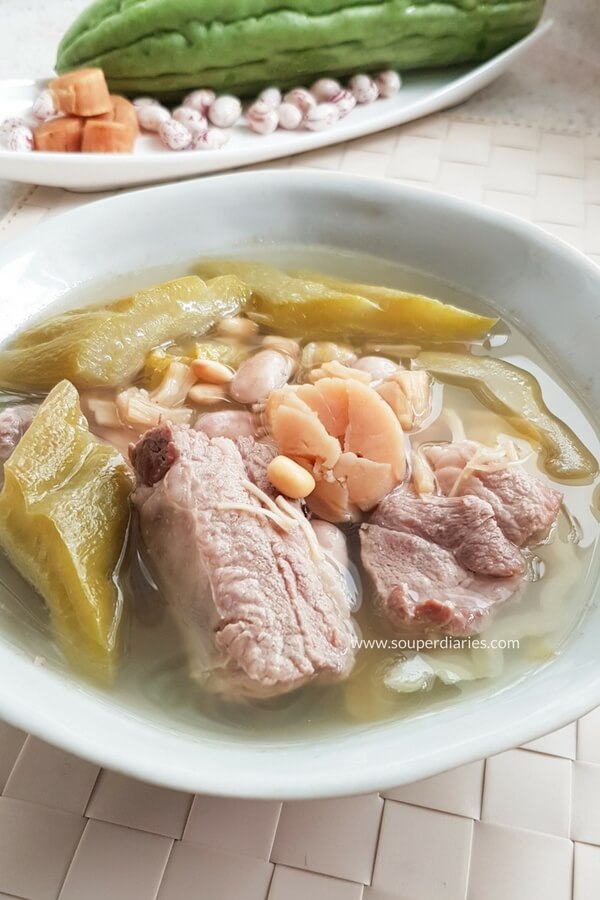 Bitter gourd can be cooked in many ways – steamed, deep-fried, boiled or braised. Here are some of my other favorite recipes for bitter gourd:
Braised chicken with bitter gourd
Steamed stuffed bitter melon
This soup is very hearty with the addition of soy beans and cranberry beans and appetizing despite the bitter taste. It is great with rice or on its own. Have a go at this bitter gourd soup recipe and let me know what you think in the comments below!

Bitter Gourd Soup with Salted Vegetables
Recipe type:
Slow Simmer Soup
Ingredients
1 bitter gourd (500 g)
600 g pork ribs
200 g cranberry beans
6 cups water
To Soak
80 g soy beans - soaked for 2 to 3 hours
4 dried scallops - soaked for 2 to 3 hours
100 g salted vegetables - soaked for 10 minutes
Instructions
Blanch pork ribs in boiling water for 2 minutes. Rinse and set aside. Cut bitter bitter melon lengthwise and remove seeds and white spongy part. Then cut into half lengthwise and slice diagonally. Cut salted vegetables and set aside.
Optional step: Blanch bitter gourd in boiling water for a few minutes if you wish to reduce the bitterness. Rinse with cold water and set aside.
Add soy beans, salted vegetables, pork ribs and dried scallops into a soup pot (I used a clay pot). Bring to a boil. Reduce heat to low and simmer for 1 hour 30 minutes.
Add bitter gourd and cranberry beans and cook on low heat for another 30 minutes. Season with salt to taste if necessary.
Cooking Notes
1. The weight of the cranberry beans is before removing the beans.
2. Preparation time does not include soaking time.