Have only 30 minutes to cook? Try this healthy and delicious luffa soup with black fungus and vermicelli. It is perfect for the hot weathers, helps to replenish fluids and is also a meal in itself.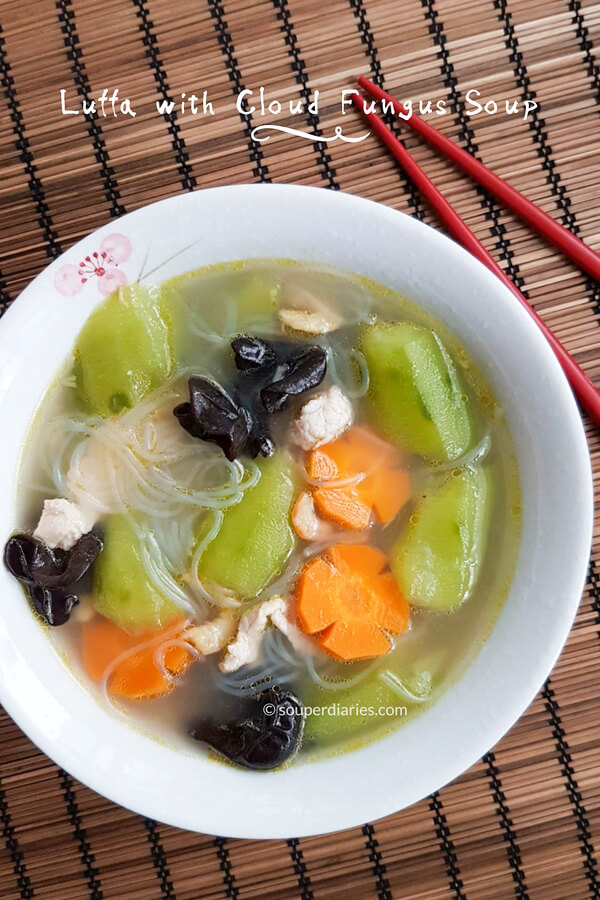 In the past, luffa (also spelt loofah) was one of those vegetables that I often see at my local market but always ignore. I think this is probably due to its appearance. It gave me the impression that it would take some work to peel off the skin. Then I discovered that although luffa may appear to have a hard exterior, it is actually very easy to peel it. Sometimes I buy pre-cut luffa when I see them as they are very convenient on busy days.
Truth be told, I've eaten this vegetable so many times and yet I just discovered its many names. One of them is seng kua, a name I came to know over lunch with friends on a recent trip to Ipoh. Speaking of Ipoh, I had the most wonderful time re-connecting with my favorite and famous Ipoh must-eats. The zhi-char dishes there was utterly delish. I ate a deep fried tofu braised with luffa and it gave me the inspiration to cook this luffa soup.
Luffa fruit are eaten only when they are still young. They have a mild sweet taste with a soft, spongy texture. Some say that it is rather similar to zucchini.
When fully matured, luffa is very fibrous and is inedible. They are made into scrubbing sponges and used in kitchens and bathrooms. Many years ago, the father of an acquaintance of mine had a small orchard where he had some luffa planted. Sometimes he would dry the luffa to make luffa sponges. He gave me some but I didn't like using them much. This was because they were stiff and dirt and food waste easily got trapped in between the hundreds of holes in the fibrous cavity of the luffa.
How to prepare and cook luffa
When cutting luffa, it is not necessary to remove the skin entirely. Peel off the harder skin on the protruding ridges and most of the skin off. Leave some of the skin on or you won't be left with much of the gourd. I left the seeds inside as they will soften after cooking. You may want to remove them if you don't want any seeds in the soup.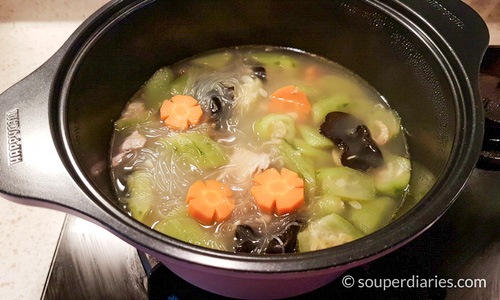 Luffa is commonly used in soups and stir-fries. It goes very well with eggs too. As this is a quick boil soup (滚汤), it is best to use a stock to flavor the soup since the cooking time is so short.
Luffa absorbs the liquid it is cooked in extremely well due to its spongy flesh. If you're using plain water, you will find the resultant soup rather bland. Nevertheless, you can bring flavors to the soup even without using stock. Add some ikan bilis (dried anchovies), dried shrimps or pre-soaked dried baby scallops if you're using plain water and season the soup to taste when it is ready.
Related post: Homemade chicken stock
Health Benefits of Luffa
Luffa has many health benefits but I was particularly intrigued with these two:
Luffa is also used as an ingredient in beauty products. One such product is luffa water, a facial toner popular in Taiwan. It helps to keep your skin moist and calm. (read more here)
Indeed, luffa can benefit us internally and externally. 🙂
Black fungus
I added some dried cloud ear fungus (云耳) into the soup. Besides providing a slightly crunchy texture to complement the softness of the cooked luffa, it has many health benefits. Here are some:
Clears fat and heat in the blood
Prevents and reduces blood clotting
Nourishes blood and prevents anemia
Helps blood circulation
Promotes hydration in the body
Did you know? There are many types of black fungus. Cloud ear fungus is just one of them. Other types of black fungus include hairy wood ear fungus, swallow fungus, folds fungus and autumn fungus. See more black fungus here.
Other recipes with black fungus: 
Steamed chicken with black fungus
Lo Han Chai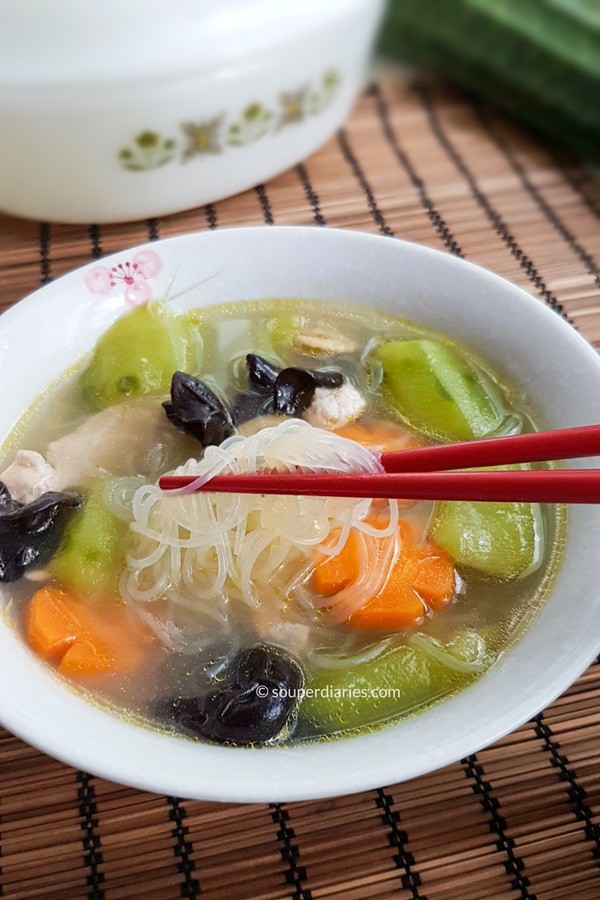 This luffa soup is sweet with a slight hint of the ocean from the dried shrimps. I can eat this without rice as it is already quite filling by itself. If you like, dunk the pork into some light soy sauce and bird's eye chili. Simply satisfying. 🙂
For more quick soup recipes, check out this page. Happy cooking and thanks for reading!

Luffa with Cloud Ear Fungus Soup
Luffa with black fungus soup. Light tasting with a slight hint of the ocean.
Recipe type:
Quick Boil Soup
Ingredients
1 luffa (600g before peeling)
100 g lean pork - sliced thinly
80 g carrot - peeled and cut into pieces
3 slices ginger
2 cloves garlic
30 g xia mi (dried shrimps)
4½ cups water or stock
To Soak
10 g dried cloud ear fungus - soak for about 5 minutes or till it expands
1 bundle of glass noodle - soak till it softens
Marinade for pork
1/2 tsp salt
1 tbsp Chinese cooking wine
½ tsp light soy sauce
Instructions
Marinade pork and set aside for 10 minutes. Peel luffa and cut into large or medium pieces (it will shrink after cooking). It is up to you whether you want to remove the seeds or not as they will soften once cooked.
Heat up a little oil in a wok or soup pot. Add garlic, ginger and dried shrimps and stir fry till fragrant. Add luffa and stir-fry for a minute. Add carrots and continue to stir-fry for another minute.
Add water and cloud fungus and bring to a boil. Then simmer for 5 minutes. Add sliced pork and glass noodles and cook for 2 to 3 minutes. Season with salt to taste and serve.
Cooking Notes
If stock is used, it is not necessary to add dried shrimps.