I seem to be partial to bitter tasting vegetables these days. Maybe it's an age thing. As I get older, I begin to appreciate them more. One of them is this vegetable called Gai Choy (Chinese mustard greens). I love using it to make a one-pot vegetable rice meal and always with some meat. For today's Chinese mustard greens recipe, I am making a flavorful Gai Choy with Roasted Pork and Raisins Rice.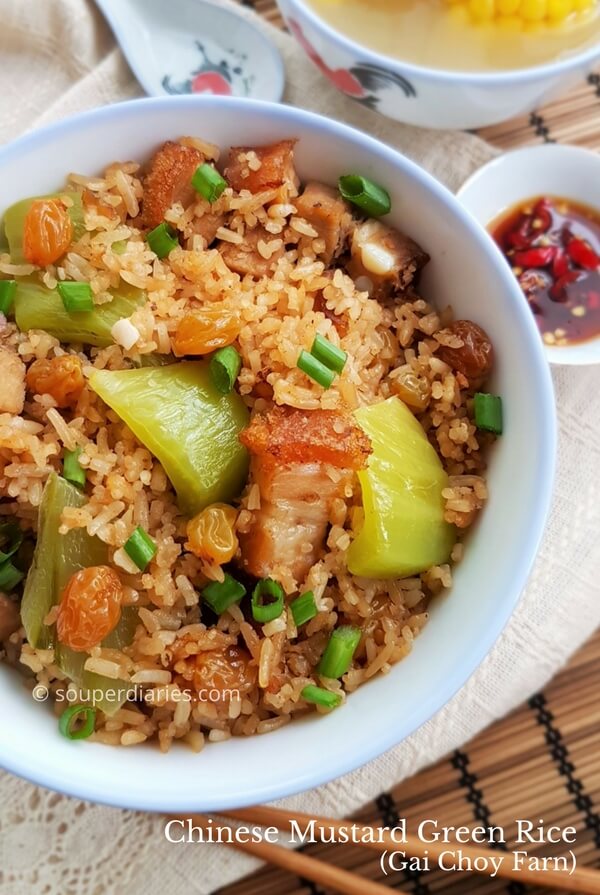 What is Kai Choy?
Kai Choy or Gai Choy is the Cantonese name for Chinese mustard, a pungent vegetable from the mustard plant species that is slightly bitter tasting. They are also known as Indian mustard and leaf mustard.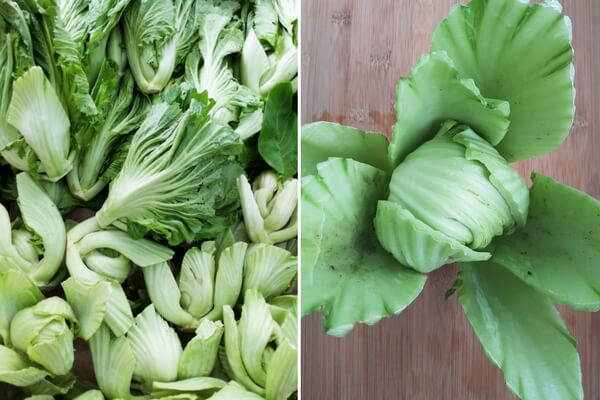 Nutrition wise, every 100 grams of cooked Chinese mustard provide 26 calories and are a rich source (20% or more of the Daily Value, DV) of vitamins A, C and K. They are also a moderate source of vitamin E and calcium. (source)
At S$6 per kilo from the market, it isn't exactly cheap but it's worth every cent of it. Gai choy is a versatile vegetable that can be cooked in many ways. One of them include the absolutely delicious and appetizing Chai Boey.
What You'll Need
Above are the ingredients that I used for this Chinese Mustard Green recipe. When cutting the mustard greens, do take a whiff of its scent. You'll be transported to mustard heaven. Lol! I really loovve its slightly nutty and peppery scent.
I added some raisins to the Chinese Mustard Green rice. Plumped up when cooked, every mouthful of rice is filled with little bursts of sweetness that balances the Chinese mustard green's bitterness. It also encourages my kids to eat this dish. So in this gai choy fan, you can taste the sweet (from the raisins), bitter (from the Chinese mustard green) and savory (from the roasted pork and rice). Mmmmmm… simply delish.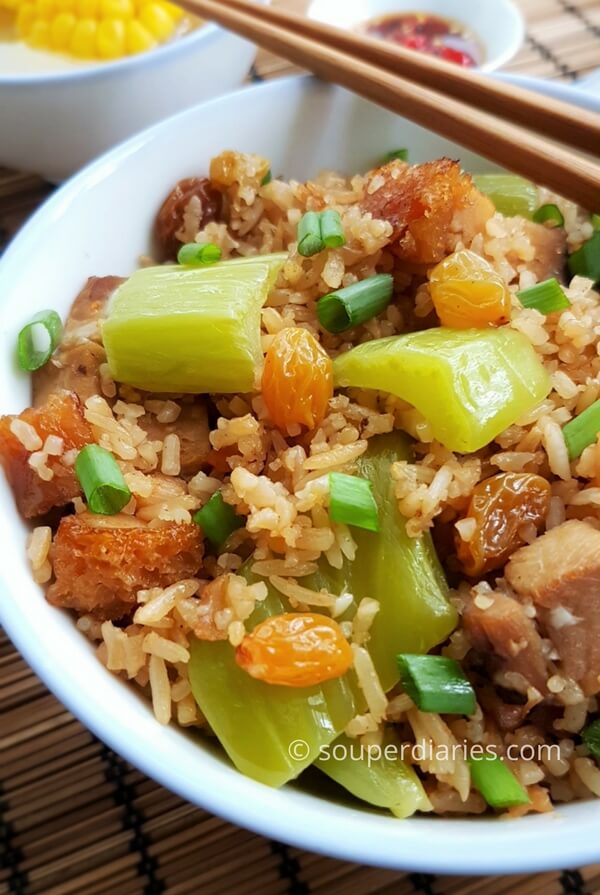 This one-pot vegetable rice is perfect for lazy days. Whenever I cook this, I'll do it in the morning and that's what my family and I will have for lunch and dinner. It is delicious on its own but I often like to pair it with a soup. Today I cooked this with a light and tasty Chinese Sweet Corn Soup with Dried Scallops. See also this list of Chinese soup for suggestions. Oh, and don't forget the bird's eye chilis when you eat this! Or you can serve this with some sambal belacan too.
That's it for now! I hope you'll enjoy this recipe and as always, I'm happy to hear from you. Do drop me a comment or question in the comment box below. Have fun cooking and if you enjoyed this post, please share it with your family and friends. See you soon and happy cooking. 🙂

Chinese Mustard Green Rice Recipe (芥菜饭)
A flavorful and delicious one pot rice meal of Chinese mustard green and roasted pork as an accompaniment to your favorite Chinese soups.
Ingredients
3 cups uncooked rice grains (440 g) - washed and rinsed till water runs clear
1 medium sized kai choy (about 500 g)
300 g roasted pork - cut into small pieces
4 cloves garlic - minced
30 g small dried shrimp - rinsed, soaked till soften and minced
50 g golden California raisins - soaked for a few minutes till soften
3 tbsp cooking oil
600 ml water


Seasoning for Sauce
2 tbsp light soy sauce
1 tbsp oyster sauce
½ tbsp dark soy sauce
Dashes of white pepper


Cooking Equipment
Wok and Rice Cooker
Instructions
Heat up 1 tbsp of oil in a wok till hot. Add half of the minced garlic. Stir-fry till fragrant. Add chinese mustard and fry till it is partially cooked (about 3 minutes). Dish up and set aside.


Pour in 2 tbsp cooking oil. Add minced dried shrimp and remaining minced garlic into the wok. Stir-fry till fragrant. Add roasted pork slices and raisins and fry for a few minutes.

Add rice grains and stir for about a minute. Pour in seasoning and mix well to combine everything. Dish up and pour into a bowl for easier transfer to the rice cooker.

Pour the rice mixture into the rice cooker. Use the rice paddle to smoothen the rice if necessary. Add water and turn on the rice cooker.

When water in the cooker starts boiling, pour in the fried Chinese mustard. Close the lid and let it continue to cook. When the cooking time is up, open the lid and check on the rice. If you find it too dry, add in a small amount of water and continue to cook for about 5 minutes more. If it's just nice, fluff up the rice and let it settle for about 5 to 10 minutes in the rice cooker.

Dish up and garnish with chopped spring onions.