When I want a Chinese soup in a jiffy, egg drop soup is the first thing that comes to my mind. Egg drop soup, also known as egg flower soup (dàn huā tāng) is a Chinese soup of wispy beaten eggs in boiled chicken broth. These 5 simple and easy egg drop soup recipes take less than 30 minutes each to cook from start to finish and they're perfect for a quick, healthy meal!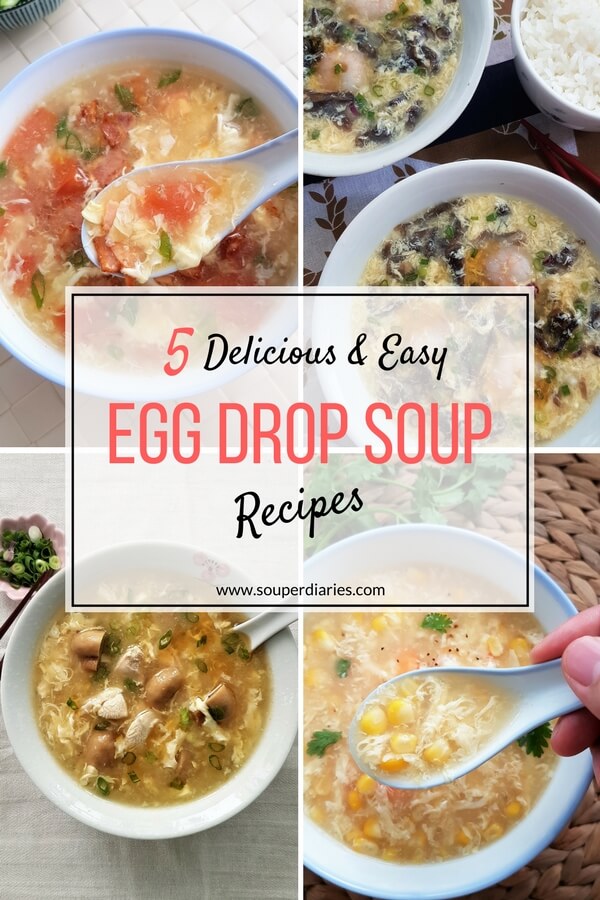 Egg drop soup is perfect as an appetizer or as a light meal. Whenever I cook this, I'll check what's available in my fridge to add to the soup. You can easily turn the soup into a more substantial meal by adding ingredients such as:
tofu

fresh mushrooms (shiitake, enoki or shimeji)

frozen vegetables

seaweed

prawns


tomatoes
Usually, I'll add one to two extra ingredient besides the stock and egg as I like to keep my egg drop soup simple without adding too many ingredients. That's how I interpret this soup – quick cooking with minimal hassle.
The cornstarch mixture called for in an egg drop soup recipe is optional. It's to thicken the liquid and will not affect its taste. So to thicken a soup, I will use a little cornstarch but not too much or it will make the soup gluey. Don't use cornstarch if you prefer a light soup.
Egg drop soup is most enjoyable when the eggs are wispy and soft so try not to overcook the eggs. To prevent overcooking, turn off the heat immediately before you pour the eggs into the pot. Don't worry about undercooking the eggs as the remaining heat will be hot enough to cook them.
Use the egg whites only instead of the whole egg if you are concerned about cholesterol levels. Serve immediately and enjoy it hot!
1. Chinese Egg Drop Soup 
Turn a simple egg drop soup into something more substantial with fried prawns and fresh sweet corn. Delicious, quick and easy recipe!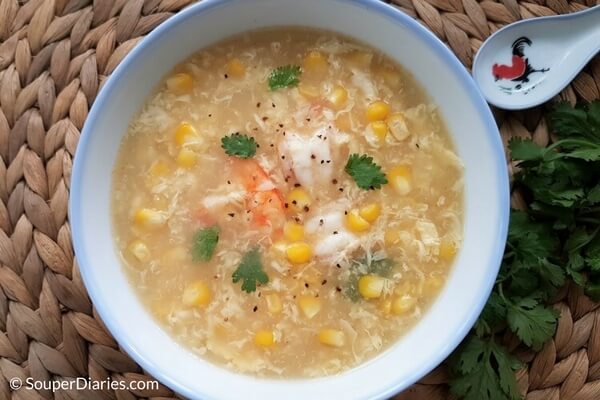 2. Seaweed Egg Drop Soup
I've always enjoyed the taste of seaweed and they are so delicious in soups. If you also love seaweed, add some into your egg drop soup. I included some prawns and turned it into a light one-dish meal.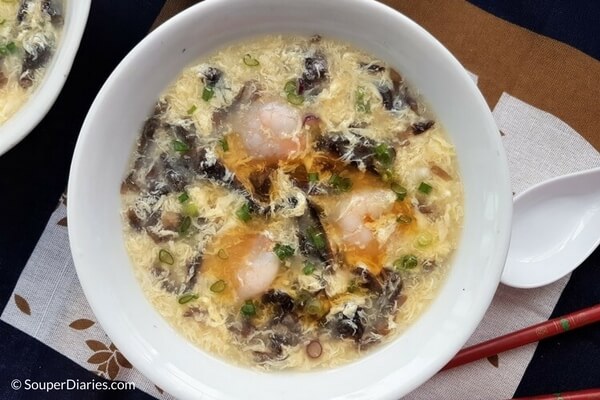 3. Egg Drop Soup with Mint Leaves
Don't you just love the refreshing and uplifting aroma of fresh mint? I love having it in chocolates, ice-cream, mint sauce, soups and much more. If you have mint leaves planted in your home, this is one of the ways you can cook them. If not, buy them from a wet market or the refrigerated section of a supermarket.
Cook and prep this soup in 20 minutes.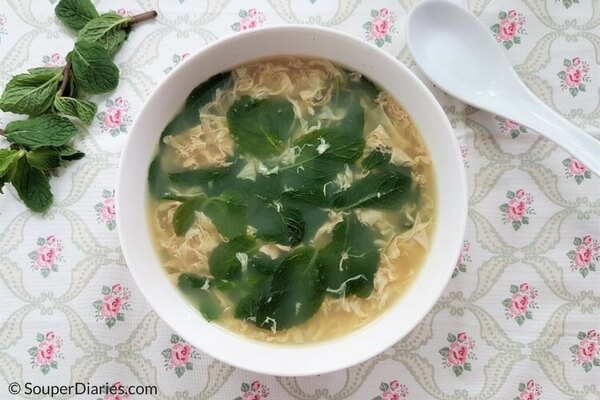 4. Chicken Egg Drop Soup
Egg drop soups are a great way to make use of leftover ingredients in your fridge. In this recipe, I used leftover chicken to create this delicious soup with minimal fuss. Great for times when you feel peckish but not in the mood for a full on cooking session.
5. Tomato Egg Drop Soup
Savory and tangy at the same time, this tomato egg drop soup will surely whet your appetite for more. My kids loved this a lot. It takes less than 15 minutes to cook. Serve this as an appetizer or a light meal.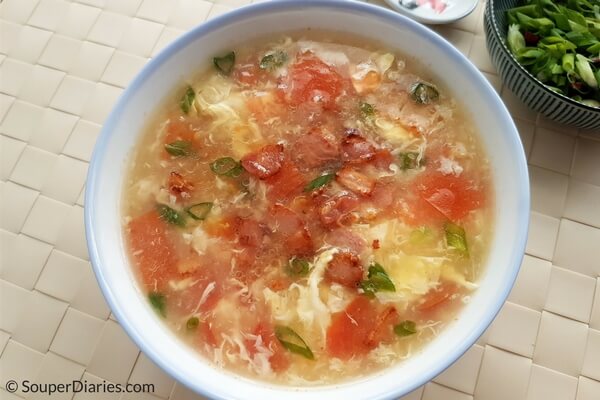 Have you tried making your own egg drop soup yet? I hope you'll try out these recipes and let me know which is your favorite. Do share with me in your comments below!
Let's connect on Facebook, Instagram, Twitter, Pinterest or Google+. See you again and happy souping!
P/S: If you like eggs, check out these eggy recipes too:
#1 Steamed Three Eggs
#2 How To Steam Eggs With A Silky Texture