Daikon Radish Soup Recipe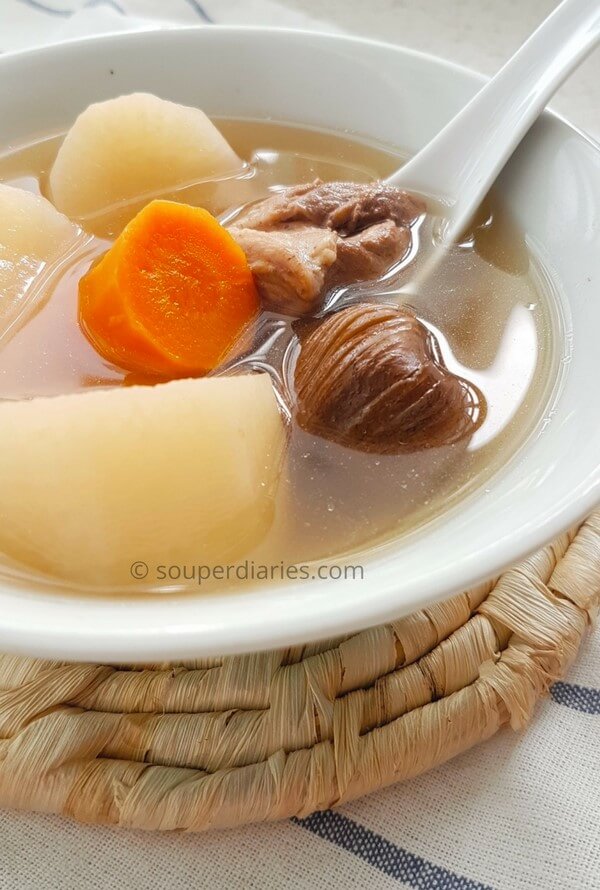 Recipe type:
Slow Cook Soup
6 cups water
350 grams pork spare ribs or soft bone
1 medium daikon (white radish), peeled and cut into chunks
1 carrot, peeled and cut into chunks (optional)
1 large piece or 3 small pieces of dried cuttlefish (about 50 g)
6 dried scallops - soaked till soften (optional)
2 dried honey dates
1 small knob of ginger - peeled
Par-boil the pork in a pot of boiling water to get rid of impurities. Remove pork, rinse and set aside.
Pour water into a soup pot and add all the ingredients. Bring to a boil then simmer over low heat for about 1.5 hours or until the meat is tender. Season with salt to taste.
Use chicken instead of pork if preferred.
Recipe by
Souper Diaries
at https://souperdiaries.com/daikon-radish-soup-recipe/