Tomato Egg Drop Soup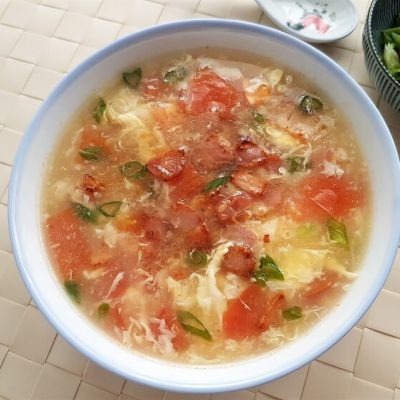 Recipe type:
Quick Soup Recipes
3 cups low-sodium chicken broth (or use homemade chicken stock)
2 eggs – lightly beaten
3 strips of bacon - cut into small pieces
1 tomato – diced
2 tbsp corn starch
3 tbsp water
Salt - to taste
White pepper - to taste
Spring onions for garnish
Bring chicken broth to a boil in a small soup pot. Mix cornstarch with water and set aside.
Pan fry bacon till crisped. Not necessary to add oil as the bacon will produce oil. Dish out and set aside.
Once the broth is boiling, add tomatoes, cornstarch slurry and half of the fried bacon into the pot. Stir and let the tomatoes cook for about 1 - 2 minutes. Season with salt and white pepper to taste.
Turn off the heat. Gently swirl in the beaten eggs and stir with a fork or a pair of chopsticks. Cover with lid for about a minute to let the eggs set. Garnish with spring onions and the rest of the fried bacon. Divide into individual bowls and serve immediately.