Chinese Seaweed Soup with Pork Balls and Tofu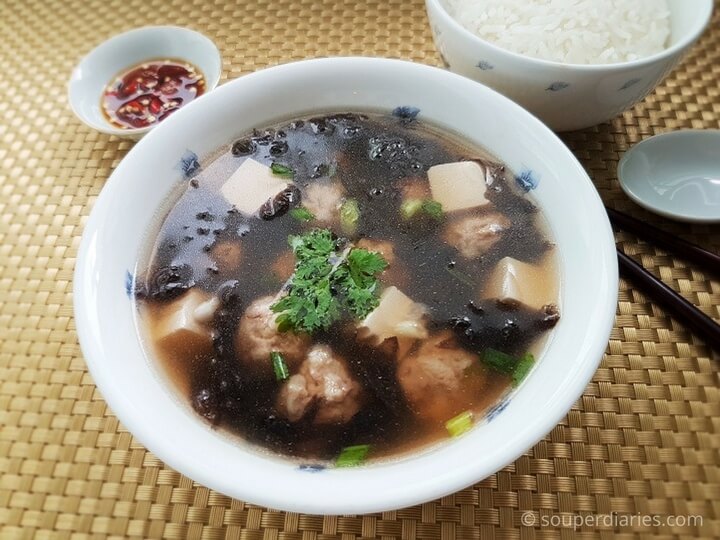 Recipe type:
Quick Cooking Soup
½ sheet of Chinese dried seaweed - cut into pieces
1 NO MSG or organic stock cube
5 cups of water
250 gm minced pork - to marinate
1 block of silken tofu - diced
Marinade ingredients
1 tsp of fried shallot or garlic oil
¾ tbsp of light soy sauce
¼ tsp salt
1.5 tsp cornstarch
2 to 3 dashes of pepper
Mix minced pork well with the marinade ingredients. Shape into balls and set aside.
Bring the water to a boil in a soup pot. Once boiling, add in the stock cube and press with the back of your ladle to help it dissolve.
Tip in the pork balls gently to prevent the hot water from splashing.
Cover lid and let boil for about 3-5 minutes till pork balls are cooked through before adding in the tofu.
Add seaweed just before turning off the flame.
Garnish with chopped spring onions and/or coriander and serve hot.
1. It is important to use soup stock (homemade or store bought is fine) and not plain water for this recipe or it would not be as tasty. If you do not have any soup stock you can use a stock cube like I did for this recipe.
* Shallot oil is prepared by frying shallots in hot oil. The fried shallots make the oil fragrant and you can use it for sauces and marinades.
Recipe by
Souper Diaries
at https://souperdiaries.com/chinese-seaweed-soup/